Home
"TAKING CARE" OF CORPSES
Former Zvornik municipality official gives evidence about his meeting with the accused Ljubisa Beara in July 1995. In the course of the meeting, Beara, former security chief in the VRS Main Staff, asked the local authorities "to assist in taking care of" a large number of prisoners he "had to get rid off"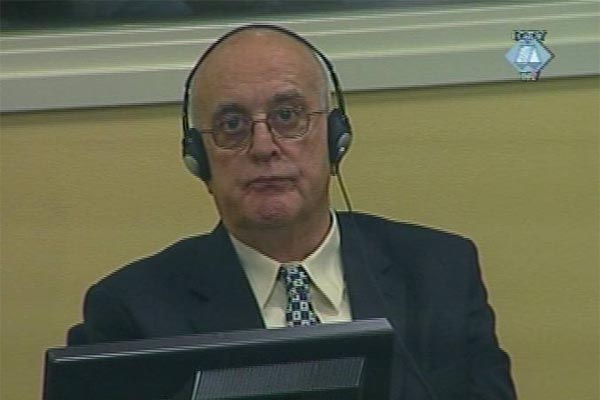 Ljubisa Beara in the courtroom
Ahead of the beginning of his evidence at the trial of seven Bosnian Serb military and police officers accused of Srebrenica and Zepa crimes the protected witness testifying under the pseudonym 104 was reminded that he had the right not to answer questions that might result in self-incrimination. The presiding judge explained that the judges might order him to answer such questions, but in that case what he said could not be used as evidence against him if he was ever prosecuted.
The witness was a Zvornik municipality official in 1995 and had contacts with the VRS Zvornik Brigade officers. In his brief examination-in-chief he said that the meetings would be held in his office or in the brigade headquarters. He would go there only on invitation. He described how in mid July 1995 he had been summoned to Zvornik Brigade headquarters, a few days after the fall of Srebrenica. When he arrived there, he asked for the brigade commander, Colonel Pandurevic but was told that he was not there. Instead of Pandurevic, he was received by Colonel Ljubisa Beara, security chief in the VRS Main Staff. Beara proceeded to "present a brief monologue", the witness said.
There was "a large number of prisoners" in the Zvornik area, Beara said, "that are hard to control and they had to get rid off". He asked the local authorities to help him "take care of them". The witness was reluctant to answer when the prosecutor asked him to clarify what Beara had meant by "getting rid off" the prisoners and what kind of assistance in "taking care" he had asked for. The presiding judge then intervened, insisting that the witness answer the question. After a longish pause, the witness said through gritted teeth that they had been asked to help "take care of the prisoners' corpses, to bury them".
In the cross-examination, Ljubisa Beara's defense counsel noted that this might have been a "translation error", asking the witness to explain once more what "taking care of" meant. He reluctantly repeated that it meant "burying the corpses".
In his statement to the OTP, the Zvornik "insider" stated that he had seen Beara on TV on his way to The Hague in October 2004 and that he "did not look like the person" he had met in the Zvornik Brigade headquarters in July 1995. When Beara's defense counsel asked him whether he still maintained that, the witness said that he did.