Home
WAS ZEPA "EVACUATED" BY FORCE OR ON ORDERS FROM SARAJEVO
In the cross-examination of the former official from the Zepa municipality, defense teams of the seven Bosnian Serb military and police officers argued that the people of Zepa had not been forced to leave the safe haven by Mladic's troops. This was done on the order of the BH military and political leadership, they say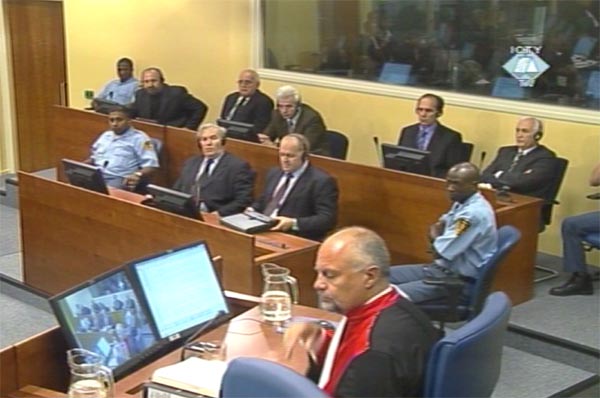 Vujadin Popovic, Ljubisa Beara, Drago Nikolic, Ljubomir Borovcanin, Vinko Pandurevic, Radivoj Miletic and Milan Gvero in the courtroom
The indictment against seven former Bosnian Serb military and police officer qualifies the "evacuation of the population" from Zepa as a "forced transfer" undertaken as part of the "joint criminal enterprise aimed at the forcible elimination of the Muslim population from Srebrenica and Zepa".
In the cross-examination of the protected prosecution witness, the defense tried to get the witness to support its case: that the people of Zepa were not forced to leave it by the Serb troops but did so on the order of the BH military and political leadership. The witness is a municipal official from Zepa. He signed the "evacuation agreement" with General Mladic on 24 July 1995. To support its case, the defense quoted from President Izetbegovic's letter to the president of the War Presidency in Zepa. Izetbegovic says that his plan "was to displace as many civilians as possible" so that the army could continue to fight without "the burden of women and children".
[IMAGE]2599[/IMAGE]In response to Milan Gvero's defense counsel, the witness confirmed that the negotiations made it possible for the "civilians to stay in Zepa if they wanted to", but "fear" made them not to accept the offer, he went on to say. After Mladic's troops launched their attack, the "people feared for their lives" and chose the safer option – leaving their homes. "It's not like deciding which restaurant to go to," the witness said.
The witness partially agreed with the defense counsel when he put it that as a negotiator, the witness was "stalling". It was clear that "the safe heaven had to be abandoned" after the last defense positions fell. The only issue that remained, the witness said, was how to get out of Zepa alive.
The situation was aggravated by Mladic's demand that all men of military age must lay down their arms and surrender to be exchanged for captured Serb fighters. The military and political leadership of the enclave could not accept this, the witness said. As a municipal official, he had nothing to do with military decisions. His main concern was how to effect a safe evacuation of civilians from Zepa without agreeing to the surrender of men of military age.
In his cross-examination the witness confirmed that weapons had been delivered to Zepa by BH Army helicopters in the spring of 1993, when Zepa was declared a safe haven,. However he rejected the defense counsel's claim that the BH Army had "heavy artillery" at their disposal. In June 1995, the Zepa Brigade attacked VRS positions around the safe haven, he said. In his view, these attacks were "counter effective" because Mladic's forces used them as a pretext to attack the enclaves.. "As civilians we couldn't do anything, this was done by the army", concluded the witness whose evidence ends tomorrow.