Home
FROM HOSPITAL TO THE EXECUTION SITE
A surgeon from Zvornik confirms at t the Srebrenica trial that in July 1995 his hospital received Muslim wounded who were later, the prosecution claims, "executed with the knowledge and assistance" of the accused Pandurevic, Popovic and Nikolic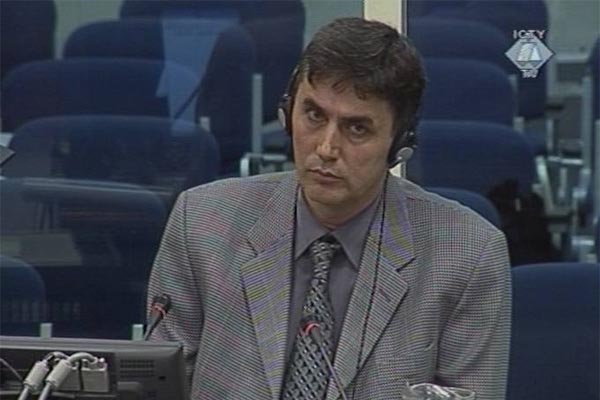 Radivoj Novakovic, witness in the trial of the former military and police officials charged with the Srebrenica genocide
The prosecution continued its case at the trial of seven Bosnian Serb military and police officers charged with crimes in Srebrenica and Zepa. Doctor Radivoje Novakovic, a surgeon in the Zvornik hospital, took the stand today. According to him, in July 1995 a group of "wounded Muslim men" was brought to the hospital. After they received first aid, they were transferred to the military infirmary in the Zvornik Brigade barracks located in the
Standard
shoe factory in Karakaj.
Doctor Novakovic confirmed the authenticity of the documents the prosecution showed him: records of the admission of the wounded Muslims, their treatment and discharge from the hospital. He does not remember when they were received or when they were transferred to
Standard
. He does not remember their names and does not know who ordered their transfer first from the Milici hospital to the Zvornik hospital and finally to the Zvornik Brigade barracks. He claims that the wounded Muslims "were treated the same as the wounded Serbs".
Doctor Novakovic confirmed that one of the captured Muslims had died soon after his admission of "serious head injuries", and the rest of them had been transferred to
Standard
after "a day or two". Doctor Novakovic was tasked with doing the rounds there, but after the second time he was informed that the patients had been "taken to be exchanged".
Their names are listed in the indictment under the heading, "Executions of wounded Muslims from the Milici hospital". According to the indictment, "soon after 20 July 1995", the wounded prisoners were taken from the Zvornik Brigade headquarters and executed. According to the prosecution, this was done with "the knowledge and authority of Vinko Pandurevic, and with knowledge and assistance of Vujadin Popovic and Drago Nikolic".
Dragan Obrenovic, former Zvornik Brigade deputy commander, mentioned the prisoners from
Standard
in the statement of facts appended to his plea agreement when he pleaded guilty to the Srebrenica crimes. Obrenovic claims that he asked what had happened to wounded prisoners from
Standard
and that Pandurevic answered, "Popovic relayed Mladic's order to liquidate these patients to Drago Nikolic …"
In the cross-examination the defense noted the procedural irregularities regarding this witness's interview with the prosecution and the statement he had given to the OTP. In March 2003, Novakovic gave a statement to the OTP investigators but refused to sign it as it was presented to him in English. Later he signed a summary of the statement in Serbian. At the proofing session yesterday he finally signed the integral version of the statement in Serbian, after he made some corrections.