Home
PROSECUTION CALLS FOR LIFE IMPRISONMENT FOR THE VUKOVAR THREE
The prosecution wants Mile Mrksic, Veselin Sljivancanin and Miroslav Radic to be sentenced to life imprisonment for the murder of 264 persons at Ovcara farm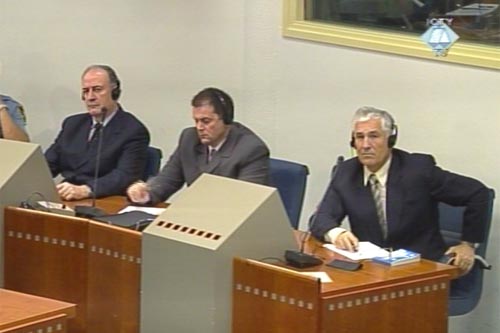 "Vukovar three" in the courtroom
Concluding his closing argument at the trial of the Vukovar Three today, prosecutor Marks Moore called for Mile Mrksic, Veselin Sljivancanin and Miroslav Radic to be found guilty of participation in a joint criminal enterprise and to be sentenced to life imprisonment.
The prosecution calls for the Trial Chamber to impose the same sentence if the three accused are found guilty of ordering crime or aiding and abetting in its perpetration. For their failure to prevent the murder of a large number of persons, the prosecution calls for the life sentence for Mrksic and Sljivancanin, and ten to fifteen years in prison for Radic.
For their failure to punish the perpetrators of the crime at Ovcara near Vukovar, the prosecution recommends 10 to 15 years in prison for Mrksic and Sljivancanin and 8 to 10 years for Radic. If the Chamber concludes that the Territorial Defense members and Seselj's men, the actual perpetrators of the crime, were not under JNA control, the prosecution wants Radic sentenced to 4 to 6 years in prison, because at least three JNA soldiers who participated in the Ovcara killings were subject to his command.
The three former JNA officers are charged with the murder of 264 persons killed at Ovcara farm on 20 November 1991 both on the basis of their individual criminal responsibility and command responsibility.
After the prosecution presented its sentencing recommendations, Mile Mrksic's defense counsel started his closing argument. Mrksic is the first accused in this case.