Home
HARADINAJ "INNOCENT AND VERY OFFENDED"
At the pre-trial conference in the case against three former KLA members, the accused re-entered their plea on the 21 counts of "second revised and amended indictment". The defense objected when it was announced that Chief Prosecutor Carla Del Ponte would make the opening statement on Monday, 5 March 2007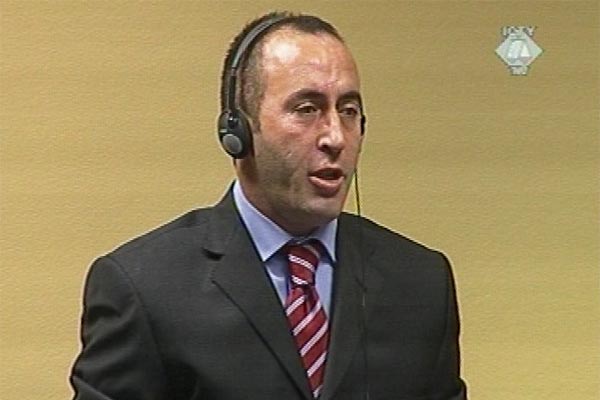 Ramush Haradinaj in the courtroom
"I plead not guilty. I'm very offended by these incriminations", Ramush Haradinaj said today as he entered his plea on the amended counts in the indictment. Together with Idriz Balaj and Lahi Brahimaj, he is charged with "intimidation, kidnapping, capturing, beatings, torture and killing" of Serbian civilians and of Roma and Albanians suspected of collaboration with the Serbian authorities.
The Trial Chamber consists of Judge Alphons Orie, presiding, and two ad litem judges, Ole Bjorn Stole of Norway and Frank Hoepfel of Austria. The presiding judge interrupted Haradinaj, warning him that he was "invited to enter a plea, not to complain". To do that, he first had to ask the Chamber for permission to address it.
Two other indicted, Balaj and Brahimaj, also pleaded not guilty. The Pre-trial Chamber then continued to consider the issues likely to affect the start of the trial, scheduled for Monday, 5 March 2007.
The prosecution submitted the final witness list containing 98 names and the special list with the names of persons it intended to call in the first two weeks of the trial. The Chamber allowed the prosecution 125 hours it asked for the examination-in chief of its witnesses. The defense will have 90% of the time for the cross-examination.
David Re, the senior trial attorney in the prosecution team, announced that Chief Prosecutor Carla Del Ponte would make the opening statement on Monday, "to underline the importance of this trial". Gregor Gay Smith, Idriz Balaj's defense counsel, objected to that, expressing his fear that her address could be more political than legal in nature. Ben Emmerson, Haradinaj's defense counsel, reacted too. He said that if Del Ponte were to make the opening statement, his client "reserves his right to address the Chamber with his opening statement without making an oath". Judge Orie was surprised that the decision whether Haradinaj would make the opening statement or not depended on Del Ponte's presence in the courtroom, in light of the fact that Haradinaj "is here one way or another".