Home
CERMAK TO REMAIN IN UN DETENTION UNIT
Pre-trial Chamber hearing the case against the three Croatian generals charged with the crimes in and after Operation Storm decides to keep the accused Ivan Cermak in the UN Detention Unit. Mladen Markac, another accused in the same case, has been released pending trial. He might go into the trial without one of his lawyers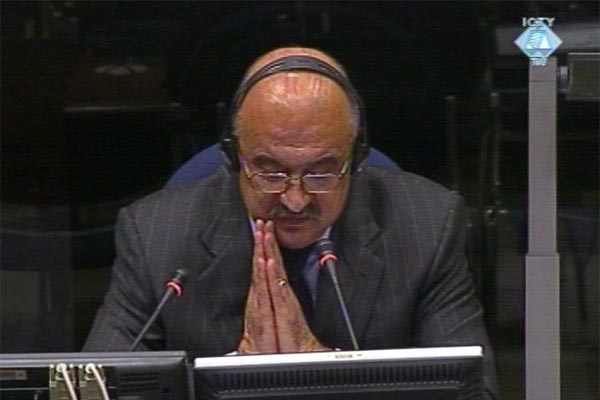 Ivan Cermak in the courtroom
The Pre-trial chamber hearing the case against three Croatian generals charged with the crimes in and after Operation Storm decided at the status conference today to keep Ivan Cermak, one of the accused, in the UN Detention Unit. The final decision whether Cermak will remain in detention until the trial because of alleged violations of the terms of his provisional release will be taken next week.
On the other hand, the Chamber decided to revoke its decision suspending the provisional release of another accused, Mladen Markac. He faces the loss of one of his lawyers because of potential conflict of interest.
Pre-trial judge Moloto asked Markac's defense counsel Branimir Separovic to state whether he wanted to withdrew from the defense team because of "potential conflict of interest" or whether he intended to remain on the team.
Separovic might be called to testify in the trial of the three Croatian generals because he was the justice minister in Croatia at the time of Operation Storm. In light of the fact that he is representing one of the accused, this might result in conflict of interest.
Separovic stated that he wished to remain on Markac's defense team because, as he said, the interest of his client was above all else. He left it to the Chamber to decide whether he should be disqualified or not. The Chamber does not have the jurisdiction to rule on this issue, and Judge Moloto asked the representative of the Association of defense Counsel Practicing before the ICTY to take appropriate action in this situation.
Michael Karnavas explained to the Chamber that the Association had already stated its view on this issue, noting in an advisory brief submitted to Chamber that they considered that conflict of interest might arise in this case, but that they could not take any specific steps without a complaint. No complaints have been lodged so far.
Separovic noted that his client would suffer "irreparable damage" if he was left without one of his defense lawyers two months before the trial, asking to be allowed to present his views to the Chamber and the Association. As he said, they would see things in a different light if they had all the facts at their disposal. The Chamber ordered Separovic to present his views in writing by next Wednesday.
The trial of Ante Gotovina, Ivan Cermak and Mladen Markac should start on 8 May with the opening statement of the prosecution, as Judge Moloto indicated. The three accused were in the same courtroom for the first time today.