Home
BELGRADE: DISMISS ALL BH DEMANDS
Belgrade's representatives urged the judges to dismiss all Sarajevo demands, as the nine-week hearings before the International Court of Justice in the BH vs. SaM case drew to a close. The judges will first deliberate whether they have jurisdiction to adjudicate in the case; if they decide they do, they will then decide on the merits of the case: whether genocide was committed in BH and whether the then FRY – now SaM – is responsible for it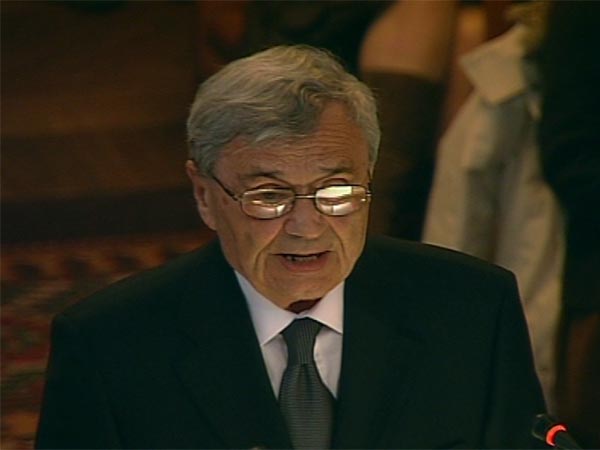 Radoslav Stojanovic, chief legal representative of Serbia and Monte Negro at the ICJ
Noting that a judgment finding Serbia and Montenegro guilty of genocide and compelling it to pay reparations to the state and citizens of Bosnia and Herzegovina "would not contribute to reconciliation but to the continuation of the conflict", Radoslav Stojanovic, Belgrade's agent, said today, urging the International Court of Justice to dismiss all the demands made by the other side.
Summing up the arguments of the SaM representatives, Stojanovic closed by saying that the crimes committed in BH could not be qualified as genocide and that the existence of Belgrade's genocidal intent or design had not been proven; the other side did not prove that Belgrade had had control over Bosnian Serbs and their military and police force. The Bosnian side, Stojanovic claimed, "misrepresented the facts" and the events that occurred in the "tragic civil war", painting them as "a confrontation of good versus evil", "evil Serbs versus good non-Serbs".
Before Stojanovic's closing arguments, Belgrade's representatives Tibor Varadi, Vladimir Djeric and Andreas Zimmermann argued in detail why in their opinion the ICJ lacked jurisdiction to adjudicate in the suit brought by BH in 1993. They repeated the well-worn arguments that at the time when the suit was filed the FRY was not a UN member and a signatory of the Genocide Convention. It therefore did not have recourse to the International Court of Justice.
Noting that only one of the three cases involving the Federal Republic of Yugoslavia before the ICJ has been concluded – the court declared it lacked jurisdiction to hear Belgrade's application against eight NATO member-states – Varadi urged the judges to apply "consistence in determining cause and effect". The same questions – whether the FRY was a UN member, a signatory of the Genocide Convention and whether it had recourse to the ICJ – "must elicit the same answers and the outcome must be the same," Varadi claims. In this case, the court must reach the same conclusion as it had in the FRY vs. NATO case.
As announced earlier, the judges will first deliberate the jurisdiction issue. if they decide they have jurisdiction, they will move on to the merits of the case. Concluding the nine-week hearings, ICJ President Rosalyn Higgins did not give any indication as to how long the judges may deliberate. She merely noted that the parties would be notified of the judgment on time.