Home
BELGRADE: NO EVIDENCE GENOCIDAL PLAN EXISTED
While she did not deny that "there were crimes and serious violations of international norms" in BH, Belgrade's legal representative Faveau-Ivanovic denied the existence of genocidal intent and plan as the second round of SaM arguments before the International Court of Justice continued. Her argument was that the crimes did not target other ethnic groups but political opponents of the Bosnian Serbs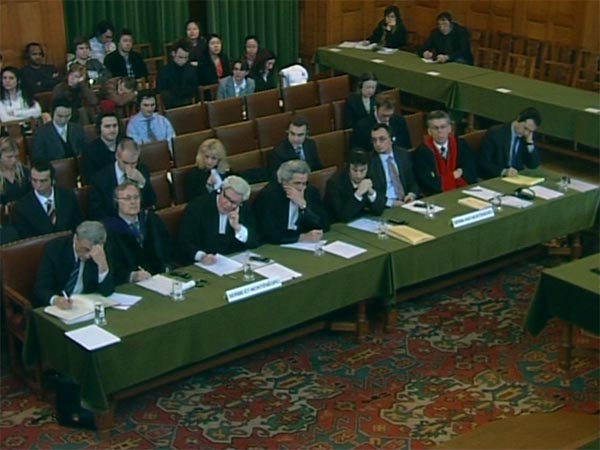 Legal team of Serbia-Montenegro at ICJ
Bosnian Serbs had their own political agenda and the intent to create their own state and to separate themselves from the other two peoples is not tantamount to genocide, Natasa Faveau Ivanovic, representing Serbia and Montenegro before the ICJ, said as the second round of oral arguments continued. She added that the desire to form a state is a manifestation of the internationally recognized right of a people to express its own will. As she stressed, this does not include the will or intent to destroy other ethnic groups.
Faveau-Ivanovic contested the claims made by BH representatives that the existence of genocidal intent may be inferred from some key documents originating from the Bosnian Serb Assembly or the Serbian Democratic Party (SDS), such as the decision on the six strategic objectives of the Serb people in BH or the instructions for the takeover of power in the municipalities, versions A and B. Those documents, Faveau Ivanovic contends, were the response of the Bosnian Serbs to the "chaotic situation in the country and the BH declaration of independence in the face of the opposition of the Serbs, one of the constituent peoples, who did not want to become an ethnic minority in BH.
Whatever the crimes committed in Bosnia, and no one contests the fact that there were crimes, Belgrade's representative said today, they were not tantamount to genocide, because there was no intent to destroy an ethnic group and there was no plan to realize the objective. As Faveau Ivanovic noted, BH representatives used intercepted telephone conversations in their presentations and quoted speeches made by Serb leaders, but failed to find direct evidence that the genocidal plan existed.
Challenging claims made by BH representatives that the detainees in the camps established by Bosnian Serbs were subjected to living conditions aimed at leading to their destruction – an element of genocide – Faveau did admit that the conditions in he camps were very bad. She did note, however, that the judgments delivered by the ICTY in the cases against Radoslav Brdjanin, Miomir Stakic and other persons indicted for the crimes in the camps such as Manjaca, Omarska and Keraterm, had never qualified such crimes as genocide.
Faveau Ivanovic also agreed that "the Muslim people were displaced", for instance in the Bosnian Krajina, but added that this was not genocide either. The intent to displace a group, Belgrade's representative said, referring to the ICTY judgment in the Stakic case, "is not tantamount to the intent to destroy a group".
Repeating that "there were crimes and serious violations of international norms" in BH, Belgrade's legal representative Faveau-Ivanovic denied the existence of genocidal intent and plan as the second round of SaM arguments before the International Court of Justice continued. Her argument was that the crimes did not target other ethnic groups but political opponents of the Bosnian Serbs.
The second round of arguments by SaM representatives continues next week and is due to end on Tuesday, 9 May.