Home
TUTA AND STELA APPEALS JUDGMENT DUE ON WEDNESDAY
The Appeals Chamber will deliver its decision on the appeals filed by the prosecution and the defense against the judgment in the case of Mladen Naletilic and Vinko Martinovic. They were sentenced to 20 and 18 years, respectively. The prosecution will begin presenting its evidence at the trial of former Herceg Bosna leadership. Momcilo Krajisnik continues his testimony at his own trial. The prosecution continues with its case at the trials of Milan Martic and the Vukovar Three. The final round of SaM arguments will begin on Tuesday before the International Court of Justice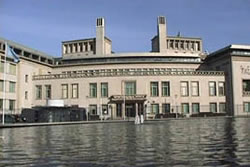 Sjedište Tribunala u Den Haagu
The Appeals Chamber will on Wednesday deliver its final judgment in the case against Mladen Naletilic Tuta and Vinko Martinovic Stela. The Trial Chamber sentenced them to 20 and 18 years in prison for the persecution of Bosniaks in Mostar and its environs in 1993. Both parties appealed the judgment: the defense because they believe the accused received "inappropriate sentences" and the prosecution because the Trial Chamber found that there was no evidence that the crimes Tuta and Stela are charged with had been committed on racial, political or religious grounds.
At the appellate hearings last October, Naletilic's defense notes that "a sentence of eight years or less would be the most appropriate" for the former commander of the Convicts' Battalion. Martinovic's defense called for a substantial reduction of his sentence, insisting that mitigating circumstances had not been taken into account properly in his case: "voluntary surrender" (from a prison in Croatia) and the assistance he had given to Muslim prisoners and Bosniak neighbors during the war. On the other hand, the prosecution stated that the sentences imposed on Tuta and Stela were "adequate" and asked the Appeals Chamber to reaffirm them.
After the opening statement delivered by the prosecution and the four-hour "presentation" by the accused Slobodan Praljak, the prosecution will begin its case by calling its first witness at the trial of the six former political and military leaders in Herceg Bosna. In his opening statement, the prosecutor described the accused: Jadranko Prlic, Valentin Coric, Milivoj Petkovic, Bruno Stojic, Berislav Pusic and Slobodan Praljak, as "the most powerful figures in the Herceg Bosna project", noting that during the war they wielded "great power". The time has come, he contents, "for them to assume responsibility now".
Momcilo Krajisnik, former Bosnian Serb political leader, will continue his testimony at his own trial. He began last week and according to the Trial Chamber decision, he should finish by 13 June. The prosecution will continue presenting its case at the trials of Milan Martic and the Vukovar Three.
A status conference has been scheduled in the case against three former KLA members who were tried for the crimes in the Lapusnik camp. The prosecution appealed the acquittal of Fatmir Limaj and Isak Musliu, and the "inadequate sentence" imposed on Haradin Bala. He was sentenced to 13 years. His defense counsel filed an appeal challenging some findings made by the Trial Chamber, calling for "a substantial reduction of his sentence".
On Tuesday, 2 May, the International Court of Justice, another court in The Hague, hearing cases involving states as parties, will hear the last round of arguments by Serbia and Montenegro. The ICJ will conclude the hearings in the BH vs. SaM case on 9 May 2006.