Home
PROSECUTION SEEKS REVIEW OF BLASKIC CASE
Several orders issued because of the prosecution Request for the review or reconsideration of the Blaskic case were unsealed today. The prosecution claims it has "new facts" that it intends to prove through testimony of two protected witnesses and another piece of evidence, as yet unspecified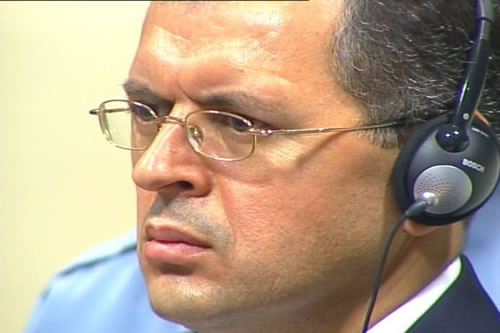 Tihomir Blaskic listening to the judgment and his sentence being lowered
When the confidential status of series of court orders from October and November 2005 was lift today at the Tribunal, the fact that the prosecution is seeking the review or reconsideration of the Tihomir Blaskic case was confirmed. The information was leaked in the Croatian media last summer, but until today there were no public statements from the Tribunal.
Several orders and decisions issued by judges Meron and Pocar, the former and current presidents of the Tribunal, were made public today. In them, they appoint the pre-review judge, replace a judge in the Appeals Chamber and respond to the motion filed by Tihomir Blaskic's defense seeking more time to prepare their response to the prosecution motion.
The key document was not made public, though. That is the motion the prosecution filed on 29 July 2005, seeking the review or reconsideration of the Blaskic case. It remains under seal. One of the decisions published today, allowing the extension of the deadline for the filing of the defense response leads to a conclusion that the motion is based on the testimony of two protected witnesses and another piece of evidence, which, according to the prosecution, indicates the existence of "new facts" leading the prosecution to seek the review.
The Appeals Chamber quashed the first instance judgment on 29 July 2005. Blaskic had been sentenced to 45 years in prison. The Appeals Chamber acquitted him on most of the counts of the indictment and imposed a sentence of 9 years in prison for unlawful detention of Bosniaks and their use as "human shields" and to dig trenches. Blaskic was immediately released from the UN Detention Unit where he had spent more than eight years.