Home
"DISPROPORTIONATE PUNISHMENT"
Milomir Stakic's defense urged the Appeals Chamber to "reexamine the enormously severe sentence" imposed on the former president of the Crisis Staff in Prijedor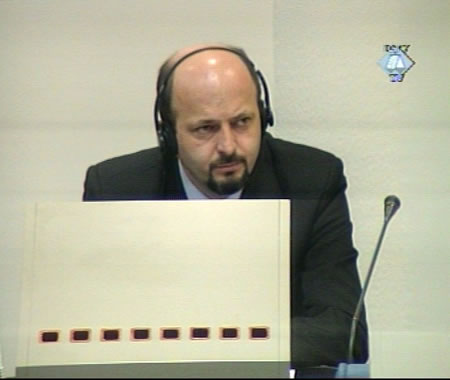 Milomir Stakic in the courtroom
The life sentence imposed on Milomir Stakic, former president of the Crisis Staff in Prijedor, is "unjust and wrong", his lawyer said as the appellate hearing drew to a close.
The punishment imposed in July 2003 by the Trial Chamber with Judge Wolfgang Schomburg presiding is "enormously disproportionate to other sentences" imposed by the Tribunal and "impermissibly severe in view of the circumstances of the case," lawyer John Ostojich notes, adding that the "aggravating circumstances" – such as the education and high office held by the accused – "were amassed unnecessarily," while the "mitigating circumstances were rejected" – for instance, his youth at the time when the crimes were committed.
The appellate hearing was concluded by Milomir Stakic's statement: "The war happened – the time will tell who was the one that started it. The truth and the fact, however, is that crimes were committed and I express my sincere regret for all those who suffered and wee in any way victims of this war. But I did not commit or order or try to justify any crime. "
The defense is convinced the Trial Chamber has misinterpreted many facts in this case and reached a number of unreasonable conclusions and convicted the accused wrongfully. As a result, they suggest, Stakic should be released. The prosecution on the other hand argues that the life sentence should be affirmed, but that it should include the conviction for genocide, rejected by the Trial Chamber.