Home
STAKIC CASE: APPELLATE HEARING TO BE HELD IN OCTOBER
It was announced at a status conference today that the appellate hearing in the case of Milomir Stakic would be held in early October. Stakic is the former president of the crisis staff in Prijedor, sentenced to life imprisonment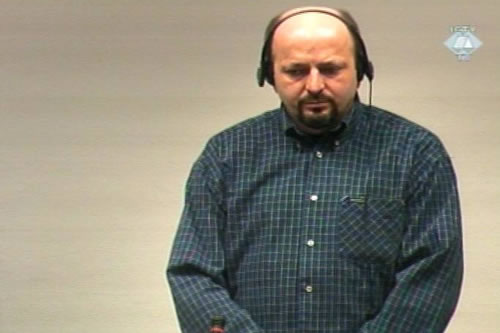 Milomir Stakic in the courtroom
The appellate hearing in the case of Milomir Stakic, former president of the Prijedor Crisis Staff, will be held on 4 and 5 October 2005, Judge Theodor Meron announced today at a status conference.
In July 2003 Stakic was sentenced by the Trial Chamber to life imprisonment, after he was found guilty of extermination, murders and persecution of the non-Serb population in the Prijedor municipality in 1992. Although he had also been charged with complicity in genocide, the judgment stated that "despite the widespread pattern of crimes committed against the Prijedor Muslims in 1992, which has been proven beyond reasonable doubt and without diminishing its seriousness, the Chamber does not consider that it constitutes genocide."
The defense filed its appellate brief as confidential, because it contained transcripts from closed sessions, but the judge invited the defense to write a public version of the document within two weeks, "so that the appellate hearings can be held in public." The prosecutors will do the same, as they also filed their response to the appellate brief as confidential.