Home
"WRONG MAN IN WRONG PLACE"
Milomir Stakic' defense considers the conviction for the crimes in Prijedor unjust because it was based on "inaccurate" conclusions and "misinterpretation" of facts. The existence of a joint criminal enterprise in Prijedor has not been proven, and neither has Stakic's involvement in it, the defense claims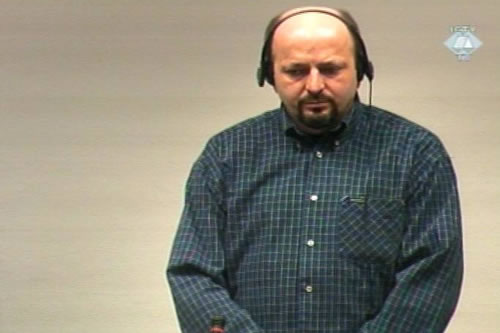 Milomir Stakic in the courtroom
According to the defense, Milomir Stakic's conviction and sentence to life imprisonment for the crimes in Prijedor in 1992 is not just because some of the conclusions in the judgment are based "on wrongly applied and distorted facts."
Stakic's lawyers, John Ostojich and Branko Lukic said today that the Trial Chamber erred in fact, made contradictory conclusions, invoked irrelevant events and admitted inadmissible evidence, thus reaching inaccurate conclusions on Stakic's responsibility for extermination, persecution and murders in the Prijedor area.
Noting that it has not been proven that Stakic was notified about the murders and the scale of crimes committed in Prijedor, the defense thinks that he cannot be considered even an indirect participant in the joint criminal enterprise. "Not every common purpose need be a criminal one," defense counsel John Ostojich said.
"'Common purpose', a legal term, has evolved with time into a "joint criminal enterprise," to become a net to catch anyone who happened to be in the wrong place at the wrong time with a wrong ethnic background, doing what is the normal thing to do in this situation," the lawyer said. "Such people are then charged with crimes regardless of whether they had control over the situation or not."
While the defense seeks for the sentence to be reduced, the prosecutors presented their arguments yesterday as to why the conviction should include the charge of genocide in the Prijedor area. The parties will address the sentence itself tomorrow. Stakic is the only accused to be sentenced to life imprisonment by the Tribunal.