Home
JUDGES AFFIRM SEVEN-YEAR SENTENCE FOR ADMIRAL JOKIC
All grounds for appeal filed by Admiral Miodrag Jokic were dismissed and his sentence: seven years in prison, affirmed. He was sentenced for aiding and abetting the crimes committed during the shelling of the Old Town of Dubrovnik in December 1991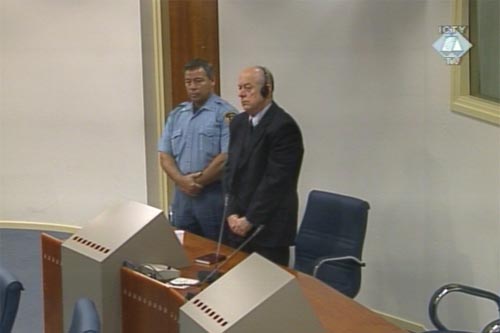 Miodrag Jokic during the judgment and sentencing hearing
The ICTY Appeals Chamber dismissed all six grounds in the appeal filed by Admiral Miodrag Jokic against the sentencing judgment delivered by the Trial Chamber, affirming his sentence to 7 years in prison.
The sentence was imposed on Admiral Jokic last March, after he pleaded guilty to the six counts of the indictment charging him with murder, cruel treatment, unlawful attack on civilians and civilian objects, devastation not justified by military necessity, destruction or willful damage done to institutions dedicated to religion, charity, and education, the arts and sciences, historic monuments and works of art and science.
All those acts are the consequence of the shelling of the Dubrovnik Old Town on 6 December 1991. Admiral Jokic, who commanded the 9th Naval District at that time, did not personally order the shelling, but knew about it yet failed to prevent it or to punish the perpetrators.
The Trial Chamber found Miodrag Jokic guilty both on the basis of his individual responsibility and command responsibility. Jokic did not appeal that aspect of his conviction, but the Appeals Chamber concluded that the Trial Chamber erred in law. The Appeals Chamber consequently vacated the conviction on the basis of command responsibility for all six counts. This, however, did not affect the length of the sentence, because the Trial Chamber accepted Jokic's superior position as an aggravating circumstance in imposing the sentence.
Miodrag Jokic surrendered to the Tribunal voluntarily in November 2001, and was soon provisionally released pending trial. He has this spent a bit more than two and a half years in detention. This time will of course be credited against the sentence that was affirmed today by the Appeals Chamber.