Home
DEFENCE SEEKS MILDER SENTENCE FOR JOKIC
The defense considers there are substantial mitigating circumstances in Admiral Miodrag Jokic's case. "I feel deep regret for the deaths of all the people killed on both sides… I'm sorry I didn't take measures and punish the perpetrators. Let this be a lesson for everyone," Jokic said at the appellate hearing today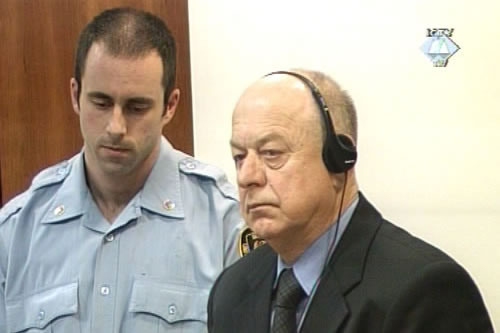 Miodrag Jokic in the courtroom
The defense of Admiral Miodrag Jokic suggested at the appellate hearing today that the sentence of 7 years be reduced. He was sentenced in March 2004 after pleading guilty to the shelling of Dubrovnik.
The defense bases its appeal on the argument that the Trial Chamber did not give enough weight to the mitigating circumstances in Jokic's case. In addition to his age (70 years) and "health and family situation", the defense notes that Jokic "showed himself to be a positive figure". As defense counsel Eugene O'Sullivan said, Jokic had been advocating "a peaceful solution" from the beginning of the crisis in the former Yugoslavia. After the forces subordinated to him as part of the 9th Naval Sector of the JNA shelled Dubrovnik on 6 December 1991, Jokic apologized to the Croatian foreign minister.
The defense also notes "substantial cooperation" of the accused with the prosecution, including his testimony at the trial of his former superior, General Pavle Strugar, who was sentenced to 8 years in prison in the meantime.
The defense furthermore considers that the Trial Chamber made an error when it consulted the SFRY Penal Code, imposing on Jokic the sentence for aiding a crime, not for failure to prevent or punish the crime. The latter would have been milder.
In its response, the prosecutor noted that the Trial Chamber had taken into account all mitigating circumstances listed by the defense in its appeal. As regards the arguments of the defense that the Chamber should not have taken into account the role of the accused in the attacks on Dubrovnik in October and November 1991, since the indictment charges Jokic only with the shelling on 6 December, the prosecution confirms that he was not charged with the "earlier shelling", but considers them relevant as they show Jokic could have expected crimes to be committed on 6 December, yet did nothing to prevent them.
"I feel deep regret for the deaths of all the people killed on both sides… I'm sorry I didn't take measures and punish the perpetrators. Let this be a lesson for everyone," said Jokic in his brief address to the Appeals Chamber. He added that he was "even more convinced now that my admission of guilt is an expression of humanity and responsibility for all the civilians casualties and the destruction of cultural monuments." "This was an honorable and proper act, because facing up to one's responsibility is a way towards reconciliation and co-existence in the former Yugoslavia," he concluded.
The Appeals Chamber will communicate its decision at a later stage after considering all the arguments presented by the parties.