Home
LARGER, NOT GREATER SERBIA
As Vojislav Seselj, who described himself as the "greatest living Serb nationalist and leading Serb nationalist ideologue" continues to testify, judges asked the prosecutor to clarify his position vis-à-vis Milosevic's views on the concept of Greater Serbia. Milosevic calls the prosecutor a "criminal" and accuses him of not knowing what he was charging Milosevic with, after three and a half years of trial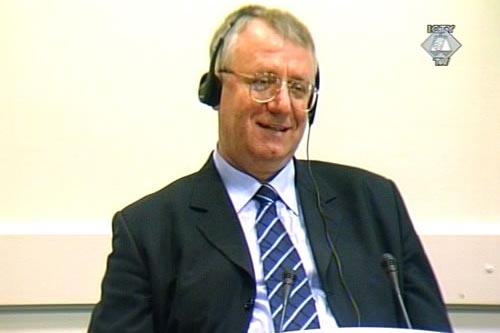 Vojislav Seselj in the courtroom
The prosecution is not claiming that Slobodan Milosevic advocated the concept of Greater Serbia, but that under the motto "all Serbs in one State" he tried to create a "larger, centralized Serbia, to be dominated by Serbs." In the final analysis, this is tantamount to "some kind of a Greater Serbia."
This is how prosecutor Geoffrey Nice summed up his position on the goals of the accused Milosevic, after one hour of wrangling with the judges who were not clear on whether the concept of Greater Serbia was one of the arguments put forward by the prosecution. Nice claimed that the prosecution has been "very cautious" about using the term, using it "only when it was necessary", and that it has never "ascribed the historical and philosophical concept of Greater Serbia" to Milosevic, "only the pragmatic plans" to create a larger Serbian state, which would include parts of Croatia and Bosnia and Herzegovina. All Serbs would live in this state, or at least their majority.
The debate on this issue was opened after the defense witness Vojislav Seselj, who presented himself as "the greatest living Serb nationalist and leading Serb nationalist ideologue", once again presented to the judges his concept of Greater Serbia. This concept, Seselj explained, includes a "single Serb state which would include all the Serb lands in which Serbs are in the majority." However, the witness continued, this concept is "opposed to the age-old attempts by the Vatican, Austria and others to reduce the Serb nation by counting only Orthodox Christians as Serbs; while the Serb ethnicity includes also Orthodox Serbs, Roman Catholic Serbs and Muslim Serbs." According to Seselj, "Serb lands" are all those lands "where Serbian language is spoken". In addition to Serbia and Montenegro, this includes the entire Bosnia and Herzegovina and the better part of Croatia, excluding, as the witness said, "the Zagreb, Krizevac and Varazdin counties". As Seselj explained, "the Vatican propaganda led the Catholic Serbs to declare themselves as Croats", which results in conflicts between them and their Orthodox brethren.
When asked by Judge Bonomy if this means that the Greater Serbia would include the entire BH and a better part of Croatia, Seselj said it would, adding that this would not be achieved "by ethnic cleansing and persecution, but by fostering brotherhood and unity among Orthodox, Catholic, Muslim, Protestant and atheist Serbs".
After Nice specified his views about Greater Serbia and the motto "All Serbs in one State", Slobodan Milosevic accused him that after three and a half years of trial he didn't know what he was charging him with. All Serbs in one state, Milosevic added, "was not a motto but a material fact," since Serbs lived in such a state for 70 years until it was destroyed "by an unlawful secession of Slovenia, Croatia and BH". Labeling prosecutor Nice "a criminal", Milosevic told him he would "be held responsible for the crimes he has committed in the courtroom," but before he could explain why he would be held responsible and how, Judge Robinson switched off his microphone. He noted that this was a "wholly improper comment" by the accused.
Vojislav Seselj's testimony will continue next Tuesday.