Home
EVIDENCE FROM THE "ANTI-HAGUE LOBBY"
General Bozidar Delic, Slobodan Milosevic's defense witness, today spoke about an investigation conducted by the VJ Commission for Cooperation with the ICTY in 2002. The goal of the investigation was to determine whether there were any foundations for the allegations made in the Kosovo indictment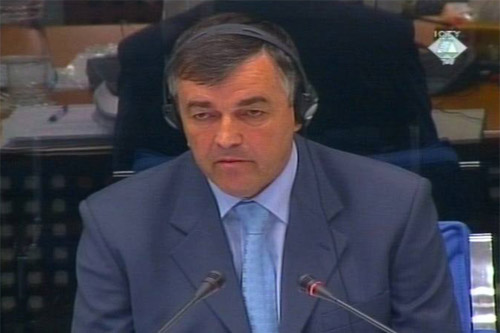 Bozidar Delic, defense witness for Milosevic
Slobodan Milosevic today commended Presiding Judge Robinson for providing a "very good" summary of Milosevic's responses to the Kosovo indictment issued. And the essence – as Judge Robinson said today, asking the accused if that indeed was his defense – is that the Serbian and FRY forces either were not involved in the incidents described in the indictment or if they were, this was in lawful operations against KLA terrorists. Furthermore, the Serbian and FRY forces never used more force than necessary and they never attacked civilians.
On the fifth day of General Delic's testimony, Milosevic asked the former commander of the VJ 549 Motorized Brigade about the incidents that, as the indictment alleges, occurred in the spring of 1999 in his area or responsibility in Kosovo. It turned out that the Commission for the Cooperation with the ICTY, set up by the VJ General Staff, had conducted some kind of an investigation into those incidents in 2002. The Commission was dissolved in 2003 by the then Justice Minister Boris Tadic. Tadic called it the "stronghold of the anti-Hague lobby". To illustrate the point, the Commission counted among its members General Milan Gvero, former member of Mladic's Main Staff. Gvero has been charged with crimes against humanity in Srebrenica and Zepa.
General Delic explained today that the Commission had set up an "expert team", charged with checking the allegations that the crimes had been committed in the first half of 1999 in Kosovo. The Commission summoned all the commanders of all the units deployed in Kosovo and distributed to them maps of their areas of responsibility asking them to plot the disposition and engagements of heir units in areas where the alleged crimes had been committed. Judging by what General Delic testifies about the crimes in his area of responsibility, the General Staff Commission determined that the Yugoslav Army had not committed any crimes in Kosovo in the spring of 1999.
Milosevic read out to General Delic the allegations from the indictment and excerpts from the testimony of witnesses or surviving victims from Bela Crkva, Nogavac, Celina and other places in the area of responsibility of the 549 Motorized Brigade. The witness, however, denied that his units had attacked or shelled those villages, burned and looted the houses and expelled and killed civilians. As for the prosecution witnesses, he said they did "not speak the truth,"
General Delic's testimony will continue on Tuesday, 5 July.