Home
NEW DOCUMENT ABOUT THE LINKS BETWEEN THE SKORPIONI AND SERBIAN INTERIOR MINISTRY
Prosecutor shows documents indicating that in March 1999 the Skorpioni were transferred to the MUP reserve force and deployed in Kosovo as part of the Special Anti-terrorist Unit (SAJ). General Stevanovic maintains that the Skorpioni were made part of the SAJ "as individuals, not as a unit". After four days of cross-examination, Milosevic embarks on the process of rehabilitating his witness and the documents he tendered for admission through him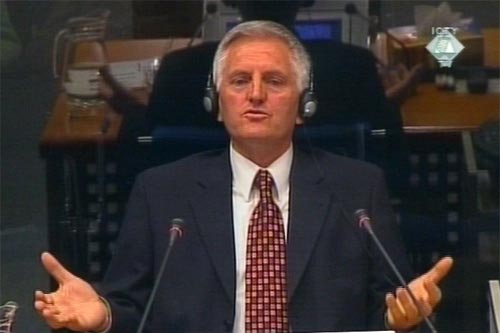 Obrad Stevanovic, witness in the Milosevic trial
The finale of General Obrad Stevanovic's cross-examination was marked by the Skorpioni. Prosecutor Geoffrey Nice showed two documents he had received from Belgrade in the meantime. They show without a shadow of doubt that in March 1999 the Skorpioni were transferred to the reserve of the Special Anti-Terrorist Unit (SAJ) of the Serbian MUP. They were transferred as a unit, with all 128 of its members and the commander Slobodan Medic a/k/a Boca. They were then deployed in Kosovo.
The documents shown today further indicate that upon their arrival in Kosovo some Scorpions committed a monstrous crime in Podujevo, in Rahmana Morine Street: they killed 14 Kosovo Albanians, seriously wounding five children. The unit was then withdrawn to the base in Prolom Banja. In late April, however, 108 of its members were brought back to Kosovo and engaged in "terrain search operations" together with the active-duty personnel of the SAJ.
General Stevanovic was the assistant interior minister in Serbia at the time. He confirmed he knew the persons who had signed the documents, adding he believed that they had noted down accurately what they had known about the involvement of the Skorpioni. Maintaining what he said yesterday, Stevanovic claimed that the persons who had signed the documents obviously "do not know the fact that only individuals, not units, can be recruited into the police reserve force." If the procedure was different in the case of the Skorpioni, the decision to do so could be taken only by the interior minister, not by the chief of the Public Security Sector, General Vlastimir Djordjevic, as the documents from Belgrade indicate. General Djordjevic has been charged with the crimes in Kosovo. He is presumed to have fled to Russia.
After the end of the cross-examination, Slobodan Milosevic embarked on the process of rehabilitating his witness and the documents he wants to have admitted through him. He started with the witness's notebook which the prosecution has somehow gotten hold of. Quoting his notes from various high-level police and political meetings, Milosevic tried to show that in 1998 and 1999 all MUP activities were "in keeping with the state policy" and that "the police acted in every way in accordance with the law."
In one of the notes from the meeting of the MUP Bureau, he quotes the then interior minister, Vlajko Stojiljkovic, as saying, "Our enemies Kandic – Biserko." When asked by Milosevic to explain the entry, General Stevanovic said that the "organizations [the Fund for Humanitarian Law and the Helsinki Human Rights Committee] headed by those two ladies were one-sided and biased in presenting facts" about the events in Kosovo.
Milosevic will continue his re-direct tomorrow: this will be day thirteen of General Stevanovic's testimony.