Home
ACCUSED BELIEVES DEFENSE COUNSEL "OBSTRUCTING HIS DEFENCE"
The judge is concerned about the possibility of preparations for the trial of Ivica Rajic being prolonged because of disagreement between the accused and his defense counsel over certain details of the defense case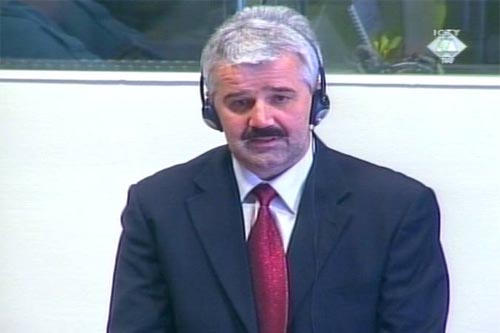 Ivica Rajic in the courtroom
The trial of Ivica Rajic, former commander of the Croatian Defense Council (HVO) in Kiseljak, is due to begin at the end of this year or the start of the next, a pre-trial judge said at a status conference today. The judge, however, expressed concern about the possibility of preparations for the trial being prolonged because of disagreement between the accused and his defense counsel over certain details of the defense case.
Rajic told the judge today that his defense attorney, Zeljko Olujic, "has not precisely followed the instructions" from his client in connection with facts that would not be contested by the defense during the trial. "I do not agree with certain things and I think that, consciously or not, my defense is being obstructed," the accused said.
Since the defense attorney did not attend today's status conference, at which Rajic was represented by his co-defense attorney Doris Kosta, Judge Liu Daqun proposed that the accused and his defense counsel meet as soon as possible and settle the problem.
Regular preparations for the main hearing are proceeding without major delays, and the prosecutor will submit his pre-trial brief in July, as announced. Prosecutor Kenneth Scott plans to call about 30 witnesses to testify at the trial and submit additional 20 or so written statements by other witnesses.
Rajic is charged with killings of Bosniak civilians in the village of Stupni Do and with detaining and ill-treating Bosniaks in Vares in November 1993.
Photos