Home
MILOSEVIC WINS FIRST ROUND OF BATTLE FOR PAPONJAK'S DOCUMENTS
Despite the prosecutor's request that the documents from the Pec SUP, which Milosevic's defense witness Radovan Paponjak has brought with him to The Hague, be excluded from the evidence, the judges have decided to admit them, albeit with a reservation that they will decide on their evidential value at a later date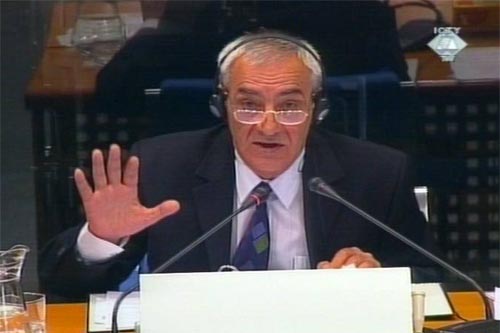 Radovan Paponjak, defense witness for Milosevic
Evaluating them as "relevant and sufficiently reliable", the judges have admitted a number of documents from the Secretariat of the Interior (SUP) from Pec, which have been the subject of testimony over the last five days by Radovan Paponjak, former chief of the Traffic Police Department in this Kosovo town. Having admitted them in evidence, Judge Robinson stressed today that "it is another matter what kind of evidential value they will be given" when a final decision will be considered.
Since he failed, despite all his efforts, to prevent the admission of Paponjak's collection of documents, Prosecutor Geoffrey Nice will have to contest their credibility during the rebuttal stage, after Milosevic presents his evidence.
Among these documents is a report on "the forcible deportation of Albanians, their persecution on racial grounds and the taking of their personal documents", which was signed by Radovan Paponjak in May 2002. The first sentence of the report reads: "The data are not true" and proceeds to claim that in the spring of 1999 there were no deportations, persecutions or taking of documents in the territory covered by the Pec SUP.
Noting that the document was put together in May 2002 after the trial of Slobodan Milosevic started, the prosecutor suggested during the cross-examination that Paponjak's report was compiled in response to "the Kosovo indictment" and that its opening sentence referred to the allegations from that indictment. The prosecutor claimed that Paponjak had written the report "for the purposes of defense of this accused", meaning Slobodan Milosevic - which the witness denied. Prosecutor Nice accused Paponjak, more frequently and more openly than some of the previous defense witnesses whom he thought were not telling the truth, of being "a liar" and of "lying all the time" to the Trial Chamber and to the public. The witness categorically denied this.
During the redirect examination of his witness, Milosevic tried to explain the making and purpose of Paponjak's report as some sort of conspiracy theory. Noting that the Pec SUP made the report at the request of the Serbian Ministry of the Interior, which was headed by Dusan Mihajlovic in 2002, Milosevic insisted that the purpose of the document was not to help his defense, but on the contrary, to help "Mr Nice in proving his assumptions" about the deportations and persecutions of Kosovo Albanians. "The Mihajlovic-Nice conspiracy", however, was later thwarted by Radovan Paponjak who, upon examination of the documents of the Pec SUP, found that "the data (alleged in the indictment) are not true".
The trial of Serbian Interior Ministry General Obrad Stevanovic is scheduled to start tomorrow. During the time covered by the Kosovo indictment, Stojanovic served as an aide to the then Minister of the Interior, Vlajko Stojiljkovic, who has also been indicted for violent deportations, murders and persecutions of Kosovo Albanians.