Home
INVESTIGATION OR "COVER-UP"
The prosecutor suggests that the purpose of the police report on the killing of inmates in the Dubrava prison was to help the defense of Slobodan Milosevic, but Radovan Paponjak, who signed the report, rejects this possibility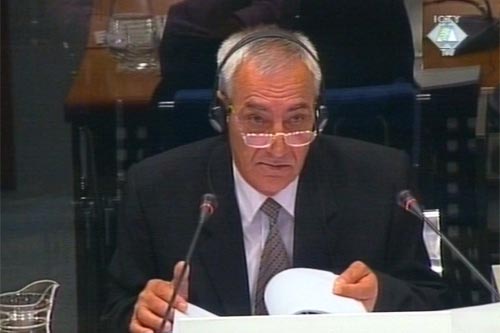 Radovan Paponjak, defense witness for Milosevic
The fact that the Secretariat of the Interior (SUP) in Pec compiled a report on the killing of prisoners in the Dubrava penal and correctional facility in Kosovo three years after the event points to the conclusion that the purpose of the report was to help the defense of Slobodan Milosevic, the prosecutor suggested today. During the presentation of its evidence, the prosecution tried to prove that the prison guards had killed dozens of Kosovo Albanian inmates in the days following the NATO bombing of the prison.
However, Milosevic's defense witness, Radovan Paponjak, who signed the said report as chief of the Pec SUP, rejected the prosecutor's suggestion, saying that the report had been made on the orders of the Ministry of the Interior (MUP) of Serbia "because it was necessary to shed light on all crimes" committed in the Pec area regardless of the fact that the Pec SUP was relocated to Kragujevac (Serbia) following the NATO operation.
Responding to this explanation, Prosecutor Geoffrey Nice cited a series of cases of Albanians being killed or detained and their property being destroyed in 1998, which were registered by international human rights organizations, and asked the witness if those cases had been investigated. Paponjak mainly responded by saying that he was not aware of the reported cases or "if they were reported, they must be in the files." When told that Albanian lawyer Adem Bajri of Pec had informed Human Rights Watch in 1998 that 251 Albanians were being held in prison in Pec for "terrorist activity" and that at least 24 had been beaten up, the witness said he did not know about it.
The prosecutor then went back to the Dubrava prison massacre, saying that the SUP report contained allegations, but no evidence of NATO bombing of Dubrava prison on 22 and 23 May when a large number of inmates were killed. "It is only suggested that the last bombardment took place on 22 May at 0610 hours," approximately at the time the prisoners were killed, the prosecutor said, describing this as "an attempt to cover up" the crime. Paponjak, however, rejected this, arguing that on-site investigation reports on air strikes were writtenright after the strikes and that the SUP did not know at the time about the alleged killing of the prisoners.
The cross-examination of the witness continues on Tuesday.