Home
NASER ORIC READY FOR TRIAL
Pre-trial conference in the case of Naser Oric, former BH Army commander in the Srebrenica region, whose trial is set to begin on Wednesday, 6 October 2004. The prosecution is granted leave to amend the indictment yet again.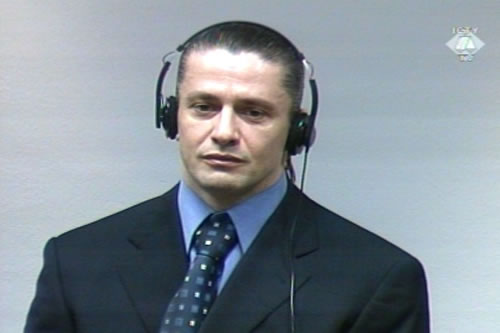 Naser Oric in the courtroom
A week before the start of the trial, set for Wednesday, 6 October at 9 a.m., the Trial Chamber granted leave to the prosecution to amend yet again the indictment against Naser Oric, former BH Army commander in the Srebrenica region.
Instead of "international conflict and partial occupation," the phrases used to describe the context in which the crimes Oric is charged with were committed, the indictment now alleges that "there was a state of armed conflict" at that time in BH. Although in previous trials held before the Tribunal it has been proven that the conflict in BH – because of the involvement of Serbia and Croatia – was international in nature, the prosecution does not have to prove that in Oric's case, since he is charged only with violations of the laws and customs of war (the existence of "armed conflict" is sufficient for those charges), not with Grave Breaches of the Geneva Conventions (which apply only to international conflicts).
Prosecutors also sought to delete from the indictment allegations charging Oric with the attack, destruction and looting of the village of Rupovo Brdo. As the defense did not object, the Trial Chamber allowed the amendment.
Trial preparations were also discussed at today's pre-trial conference, where it was concluded that the parties – despite objections by the defense because of the delayed disclosure of exculpatory evidence – were ready to proceed to trial. The chamber that will try Oric was present for the first time in full: in addition to Maltese judge Carmel Agius, who already presided over the trial of Radoslav Brdjanin, the other members of the Chamber are two newly-appointed ad litem judges--Dane Hans Henrik Braydensholt and German Albin Eser.
Naser Oric is charged with the murders and cruel treatment of Serb civilians detained between June 1992 and March 1993 in the police station in Srebrenica; the wanton destruction of cities, towns and villages not justified by military necessity; and the plunder of public or private property. According to the indictment, forces under his command burned, destroyed and plundered at least 50 Serb villages and hamlets in the municipalities of Bratunac, Srebrenica and Skelani; thousands of Serbs fled the area as a result.
The prosecution will have about four months to prove its charges, and then the defense will be allotted the same time to challenge them. This means that the trial might last less than a year.