Home
MILAN BABIC SENTENCED TO 13 YEARS IN PRISON
According to judges, the sentence recommended by prosecutors--two years shorter than the one they imposed--did not achieve the purposes of punishment or justice.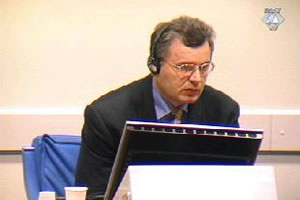 Milan Babic in the courtroom
Concluding that the prosecution's recommendation that Milan Babic be sentenced to a maximum of 11 years in prison "does not achieve the purposes of punishment, nor does it do justice," the Trial Chamber imposed a 13-year sentence on the former Croatian Serb political leader.
Judges did not accept prosecution and defense claims that in 1991 and 1992, Milan Babic had only a "limited role" in the joint criminal enterprise, whose purpose was the forcible and permanent removal of non-Serbs from the parts of Croatian territory declared the "Republic of Serbian Krajina." Although he was not the prime mover of the enterprise, the judgment states, Babic nevertheless elected to remain in power, lending substantial support to the campaign of persecution against non-Serb civilians and providing the necessary financial, material, logistic and political assistance to the military take-over of the territory of the Croatian Krajina. He also gave ethnically inflammatory speeches inciting people to violence.
The judges view the crime of persecution on political, racial and religious grounds and Babic's leadership position as aggravating factors. On the other hand, in determining his sentence, they took into account substantial mitigating factors. First and foremost was Babic's "substantial and continued cooperation with the prosecution, at great risk to himself and his family." There was also his voluntary surrender, his guilty plea and acceptance of responsibility, and his sincere remorse for the crimes in which he participated.
The relative weight judges assigned to the aggravating and mitigating factors is seen in their sentence, which is two years longer than the one jointly recommended by the prosecution and defense. This is only the third case in the Tribunal's jurisprudence where an accused who pleaded guilty was given a more severe sentence than the maximum sentence recommended by prosecutors. This is what happened to Momir Nikolic: prosecutors proposed a sentence between 15 and 20 years in prison and he was sentenced to 27 years by the Trial Chamber; and Dragan Nikolic was sentenced to 23 years, despite the prosecution recommendation that he be sentenced to a maximum of 15 years in prison.
In the remaining 14 judgments passed on accused who made plea bargains, the judges accepted the prosecution recommendation in six cases, while eight penitents received milder sentences than the ones sought by prosecutors.