Home
13 YEARS CONFIRMED FOR MILAN BABIC
The Appeals Chamber dismissed almost all the grounds for appeal stated by the former RSK leader and confirmed the sentence imposed by the Trial Chamber. One ground for appeal was granted in part, but did not affect the sentence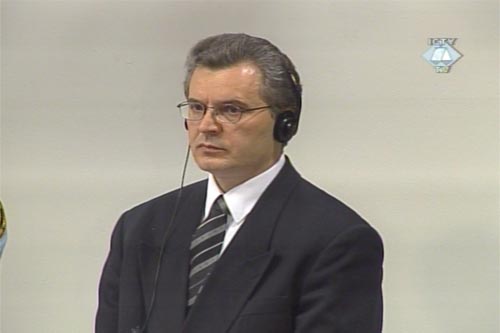 Milan Babic in the courtroom
The Appeals Chamber confirmed today the sentence of 13 years in prison for Milan Babic, dismissing almost all the grounds of appeal put forward by the former leader of the "Republic of Serbian Krajina" in Croatia.
The five judges sitting in the Appeals Chamber granted in part one of the eleven grounds of appeal, ruling that Babic's conduct after the commission of the crime and his later efforts to promote peace can be considered as mitigating circumstances. Yet, in a majority decision, the Appeals Chamber decided this should not affect the severity of the sentence.
Babic was sentenced to 13 years in prison in June 2004, after he pleaded guilty to the persecution of non-Serb population in Croatia in 1991, qualified as a crime against humanity. The sentence was two years longer than the one recommended in the plea agreement Babic had made with the prosecution. Babic's defense therefore appealed the sentence. The defense noted, among other grounds, that the Trial Chamber had forced Babic to plead as a "co-perpetrator" rather than as an "aider and abettor" in the joint criminal enterprise to permanently remove Croats and other non-Serbs from one third of the territory of Croatia. The defense further claimed that the Trial Chamber had failed to provide an explanation for its departure from the recommended sentence, and noted that there had been no departure in the sentencing of Biljana Plavsic (after her guilty plea). All those grounds were dismissed as either untrue or unfounded.
The Appeals Chamber considers that the judgment passed by the Trial Chamber gave appropriate weight to all other mitigating circumstances Babic lists in his appeal, such as his cooperation with the prosecutor, voluntary surrender and remorse.
Babic will now await in the UN Detention Unit for the ICTY to decide where he will serve his sentence.
Photos