Home
DARK CURSE OF RADOVAN KARADZIC OVER REPUBLIKA SRPSKA
SENSE INTERVIEW: Paddy Ashdown, High Representative in BH
Republika Srpska is undermining its existence in international law, and every citizen is paying a huge price in economic terms, jobs, education, and health because Radovan Karadzic is still not in the UN Detention Unit. "There is one hundred percent determination of NATO and the international community to bring the accused to justice, but there is no willingness on the part of Republika Srpska to cooperate in this," says the High Representative in an exclusive interview for SENSE Agency.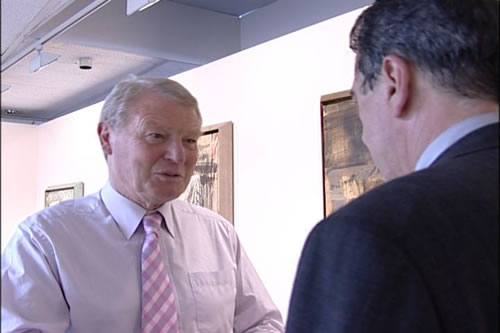 Paddy Ashdown during interview
Republika Srpska is undermining the very foundation in international law on which its existence is based, blocking the country's passage to the Partnership for Peace program with NATO, yet it cannot pose a substantial threat to Bosnia and Herzegovina's progress towards European integration.
This is how the High Representative of the international community in BH, Paddy Ashdown, summarizes the political price paid by the Republika Srpska for its failure to cooperate with the Tribunal in The Hague. Ashdown points out that cooperation "is an obligation under international law stemming from the same law on which the existence of Republika Srpska rests, which is the Dayton Agreement." If this law is not observed, Ashdown warns, "the foundation on which Republika Srpska is based loses some of its legitimacy."
In order to show that this was not a slip of the tongue, the High Representative repeated his warning three times in the course of the half-hour TV interview he gave to SENSE agency. He was discussing the price that Republika Srpska and Bosnia and Herzegovina as a whole are paying because Radovan Karadzic and Ratko Mladic continue to remain fugitives from international justice.
In Ashdown's opinion, that price is "huge." In addition to the political cost he outlined – bringing into question the legitimacy and the very existence of the entity – the High Representative pointed out the "price paid by every single citizen of Republika Srpska, especially eastern Republika Srpska." Referring to the posters that SFOR puts up from time to time in an attempt to encourage citizens to provide information that might assist in the capture of the fugitives, Ashdown tells us how they should read:
"If you are not seeing the benefit of any international investment in Foca or if you are not seeing new jobs being created, or if you are remarking that RS is visibly poorer than the Federation, there is a reason for that -- and the reason is Radovan Karadzic – the dark curse over Republika Srpska. Every single citizen pays a price. A price in economy, a price in jobs, a price in the amount of money that we can put in the schools and hospitals. He is blighting the country's future. He is the dark curse, hanging not only over the legitimacy of Republika Srpska, but preventing Bosnia and Herzegovina from taking its place in NATO. This curse falls across every single citizen, especially in eastern Republika Srpska, who is paying a real daily price for the fact of that man's existence still at large."
The High Representative refuses to discuss any "conspiracy theories" to the effect that NATO and the great powers are in fact unwilling to arrest Karadzic and Mladic because ostensibly someone made a promise of some sort at some point. He admits that in the past, NATO pursued the "poison fruit philosophy," standing below the tree waiting for Karadzic and Mladic to fall like poison fruit. He claims that this is no longer the case.
"We are now shaking this tree, we are attacking its roots, we are attacking its branches, we are taking out people who are the support mechanism for Radovan Karadzic, so we are widening this front. This campaign is having an effect, this campaign is making life more difficult, this campaign is making it more likely that we are catching Radovan Karadzic. I have good reasons to know that, but I have no intention to discuss them on television. I don't think you catch criminals by telling them your secrets and telling them what you are going to do next."
Unlike some of his predecessors in the Office of the High Representative, who often announced that Karadzic would be arrested "by the end" of this or that month or year, Ashdown does not want to "make any forecasts" as to when it might happen. He is convinced, however, that it will happen, since there is "absolute backing from all members of NATO and the international community" to bring Radovan Karadzic to justice." What is lacking, he says, is the willingness of the Republika Srpska to cooperate in this.
In Ashdown's opinion, locating and capturing Radovan Karadzic is "an extremely difficult military job." Referring to his military experience in Northern Ireland – where the British troops "control every blade of grass" yet fail to catch the people behind some of the most serious terrorist acts – the High Representative notes that this task is much more difficult in "one of the wildest mountain vastnesses in the whole of Europe, in a population that still, regrettably, regards Karadzic in many cases as a hero." Ashdown points out that in World War II, 16,000 partisans hid in the wilderness; six German divisions searched for them to no avail.
In addition to the Republika Srpska's failure to cooperate and "the wild mountain vastness" in which he is hiding, Ashdown accuses a network of organized crime supporting and protecting Karadzic for his continued freedom.
"He's the head of a criminal network. And when you see a car stolen in Sarajevo, some of the money from that may well end up supporting the Radovan Karadzic network. A portion of the money from drug smuggling and trafficked women passing through Bosnia also goes to support Radovan Karadzic. If you look at the trafficked women from Moldavia passing through the misery which they live in, and you find them in the brothels in Bosnia, just remember that some of the money for that goes to pay for Radovan Karadzic. He is the head of a corruption and crime network that provides him with funds to support his security from the misery of thousands of people."
Although he notes that Bosnia is a "remarkable miracle in many aspects, because no country in a war in the whole of history has come so fast from such a terrible war to peace," Ashdown stresses that peace and stability cannot take hold until Karadzic and Mladic, who are "casting a long shadow over the lives of every single person in Republika Srpska, are brought to justice. That is why it must be done."
Photos