Home
"CIRCUMSTANTIAL" EVIDENCE, "CONFUSED" JUDGEMENT
In its appeal, Dario Kordic's defense claims the indictment was "too broad" and "unclear," the evidence presented at trial "circumstantial" and the judgment "confused." The defense deems that "nowhere" has Kordic's link with the crimes been established.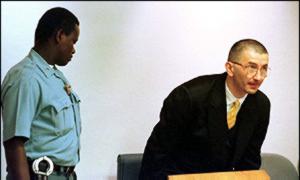 Dario Kordic in the courtroom
In arguments presented at the appeals hearing of Dario Kordic, his defence says the judgement finding the former political leader of Central Bosnia's Croats guilty of persecuting Bosniaks is based on "imprecise" conclusions.
The defense views the findings in the judgement that Kordic was "associated" with the issuing of orders for attacks on Bosniaks "imprecise." In February 2001, the Trial Chamber found Kordic guilty on most of the counts in the indictment – persecution, murder, detention and attacks on civilians, their property and religious buildings – sentencing him to 25 years in prison. The Chamber concluded that Kordic "prepared and planned" the attacks that fell "within his sphere of authority."
The defense repeatedly notes that Kordic, the president of the HDZ in the Busovaca municipality and vice-president of the Herceg-Bosna Presidency, did not have an official military function. The conclusion of the Trial Chamber that he was a "leader exerting both political and military authority" is, according to the defence, insufficient as the grounds for guilt unless there is clear evidence that he instigated and ordered the crimes.
The defense labels the key witness--on the basis of whose testimony Kordic was found guilty of the crime in Ahmici--"unreliable." Witness AT, former member of the HVO Military Police and himself accused of participation in the crime, testified in closed session as a prosecution witness at Kordic's trial. The witness stated that Kordic was present at the meeting on 15 April 1993 in Tihomir Blaskic's headquarters when the decision to attack Ahmici was taken. The witness learned this from his commanding officer, Pasko Ljubicic. Defense counsel Stephen Sayers claims that such "hearsay" evidence is not credible. He furthermore criticises the prosecution for tendering this crucial piece of incriminating evidence, not mentioned in the indictment, at the end of the trial, which didn't allow the defense enough time to prepare an "adequate" response.
The defense claims that the indictment was "too broad" and "unclear" and the evidence presented at trial was "circumstantial," leading to a "confused judgement." The defense deems that "nowhere" has Kordic's link with the crimes been established; in other words there is no evidence that he planned or issued orders or that he had the power to prevent or punish the crimes.
This afternoon, the prosecution will respond to arguments presented by Kordic's defence. The appeals hearing will continue tomorrow with the presentation of arguments for the second accused in this case – Mario Cerkez, former commander of the HVO Vitez Brigade.