Home
JUDGES CHECK WHETHER DERONJIC'S GUILTY PLEA IS UNEQUIVOCAL
Possible "material discrepancies" in Miroslav Deronjic's statements lead judges to schedule a new sentencing hearing.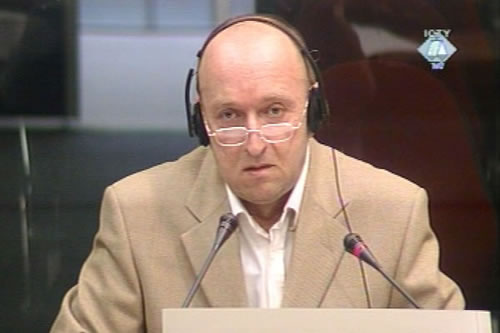 Miroslav Deronjic in the courtroom
The Trial Chamber presided over by German judge Wolfgang Schomburg scheduled additional sentencing hearing for Miroslav Deronjic, who pleaded guilty to the massacre of 65 Bosniak civilians on 9 May 1992 in the village of Glogova near Bratunac. The first sentencing hearing, at which the prosecution sought ten years in prison for Deronjic and the defence proposed six, was held in late January. The additional hearing is scheduled for Friday, 5 March, and may continue on Monday, 8 March.
The scheduling order for the additional hearing states that judges, having considered Deronjic's statement and the so-called "factual basis" of his guilty pleas and compared them to the indictment for Glogova, noted certain "discrepancies" that led them to re-examine all of the accused's previous statements. There are quite a few such statements, as Deronjic has pledged full cooperation with the prosecution and has consequently testified in his own and five other trials before the Tribunal.
Having examined the transcripts of Deronjic's testimony and compared them with his statements and the indictment, the Trial Chamber, as it stated in its order, identified elements that appear to be, at least on a prima facie basis, "material discrepancies." The additional hearing is scheduled to allow the Chamber to verify whether Deronjic's guilty plea can still be considered "unequivocal."
Judging from the wording of the order, possible "material discrepancies" refer to Deronjic's role in the attack on Glogova on 9 May 1992. In his statements and testimony, he has dealt with many other topics of interest for the prosecution, covering the period from 1991-when the SDS began preparations for the takeover of power-through to the July 1995 massacre in Srebrenica.