Home
HOLBROOKE HAD 'PLAN B' FOR RADOVAN KARADZIC
After he failed to get Karadzic immunity from prosecution – and he had undertaken to do so in an agreement in June 1996 – Richard Holbrooke 'switched to Plan B: the liquidation of Radovan Karadzic', says the accused in his first motion to the ICTY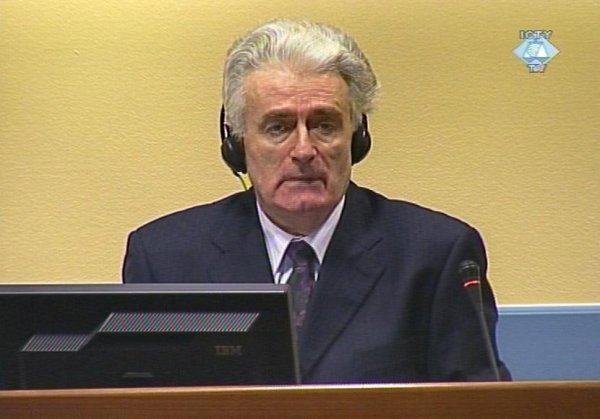 Radovan Karadzic in the courtroom
The ICTY has today released the four-page statement Radovan Karadzic wanted to read at his initial appearance yesterday but was not allowed to by Judge Orie.
The text published today elaborates in some detail the claims Karadzic did manage to make in front of the judge and the world public. First, he says, in 1996, Richard Holbrooke made him an offer on behalf of the US government: in exchange for Karadzic's withdrawal from political and public office, he is given guarantees that he would not be prosecuted before the Tribunal in The Hague. This was not 'Holbrooke's private matter, but an affair of the state,' Karadzic says; Next year, then US Secretary of State Madeleine Albright made him another offer, through Biljana Plavsic: Karadzic was told to 'hide in Russia, Greece or Serbia and open a clinic'.
However, Karadzic goes on to say, the then chief prosecutor at the ICTY, Richard Goldstone threatened to resign if this happened. Holbrooke was 'unable to fulfill the commitments he had made on behalf of the USA', and so he 'switched to Plan B: the liquidation of Radovan Karadzic'. All SFOR operations to arrest war criminals were in fact done to liquidate him. In order to protect his life, he decided to 'appear before the Tribunal', but decided not to after he realized that he 'would not get a fair trial', since the OTP investigators – misrepresenting themselves as 'Tribunal investigators' had misled the Pale government and were granted unimpeded access to the archives. They subsequently seized about 300 documents from the archives.
Apart from the defaulted agreement with Holbrooke, Karadzic mentions the 'irregularity' of his arrest in Belgrade, claiming he was 'kidnapped by unidentified men and kept in an unknown place' for 74 hours before he was brought before the Special Court.
Finally, in the document, Karadzic expresses his concern because Chief Prosecutor Brammertz has indicated the indictment will be amended and that proceedings against Karadzic would be 'quick'. Karadzic invoked folk wisdom in his motion, saying,
'If it's quick, its tail has been docked', in other words, it is incomplete or invalid. As for justice, another Serbian proverb says, 'Justice is slow, but sure'. Speed is essential in a showdown between two gunslingers, but not in matters of law and justice'.
Yesterday, the judge asked Karadzic to 'present facts and evidence' to corroborate his claims and to explain to the Trial Chamber what impact, in his view, all this might have on the work of this International Tribunal'.