Home
A NEW TRIAL CHAMBER FOR RADOVAN KARADZIC
The case of the former Bosnian Serb political leader charged with genocide and other serious crimes in BH has been reassigned to Trial Chamber III: Judge Robinson, Judge Bonomy and Judge Antonetti. This decision was not motivated by Karadzic's motion for the disqualification of Judge Orie, but has rendered it irrelevant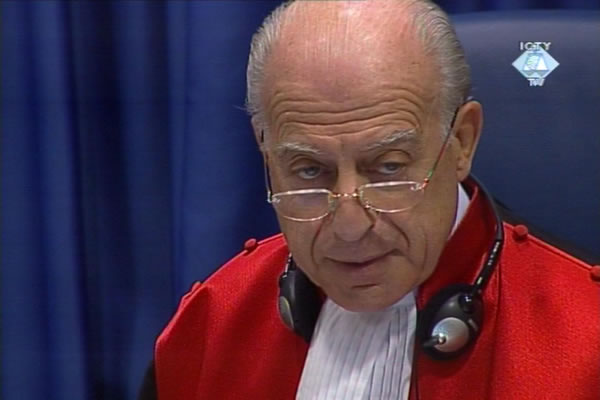 Fausto Pocar, president of the Tribunal
ICTY president Fausto Pocar today assigned the Radovan Karadzic case to Trial Chamber III, consisting of judges Patrick Robinson, Iain Bonomy and Jean-Claude Antonetti.
One of the three judges will preside at the trial of Karadzic, former Bosnian Serb political leader charged with genocide and other grave crimes in BH. Scottish judge Bonomy is the most likely candidate for the presiding judge. He is about to complete the trial of six former Serbian officials charged with crimes against Kosovo Albanians in 1999. Judge Robinson from Jamaica is currently the presiding judge in the trial of former chiefs of the Serbian state security service. As this trial has been suspended because of the ill health of the first accused Jovica Stanisic, Judge Robinson took over the trial of Milan and Sredoje Lukic, charged with crimes in Visegrad. French judge Antonetti is currently presiding in two trials, that of former Herceg Bosna leaders and the Serbian Radical Party leader Vojislav Seselj.
After Karadzic's arrest and his transfer to The Hague in July 2008, his case was assigned to Trial Chamber I, with Dutch judge Orie presiding. As the president made clear in his order, this decision was motivated by the prosecution announcing it would be applying for the joinder of Karadzic's case with the case of Momcilo Perisic, former chief of the VJ General Staff. Perisic is also charged with shelling of Sarajevo and the Srebrenica massacre; his case was assigned to Trial Chamber I. In the meantime, the prosecution decided not to join the two cases, and President Pocar decided to reassign the Radovan Karadzic case to a new trial chamber; this is usual practice at the Tribunal.
There is no mention in the ICTY president's decision of Karadzic's motion for the disqualification of Judge Orie. Karadzic's motion has thus been rendered irrelevant as his case has now been assigned to Trial Chamber III.