Home
KARADZIC WITHOUT DEFENSE COUNSEL BUT WITH 'INVISIBLE ADVISER'
Former Bosnian Serbs leader Radovan Karadzic had his initial appearance before a Tribunal judge. He says he wants to defend himself, but adds he does have an 'invisible advisor'. Karadzic postponed entering his plea on the charges in the indictment until 29 August 2008. Karadzic claims he was thinking about going to The Hague in 1996, 1997 and 1998 but decided not to for fear of being 'liquidated' because of a purported agreement with Holbrooke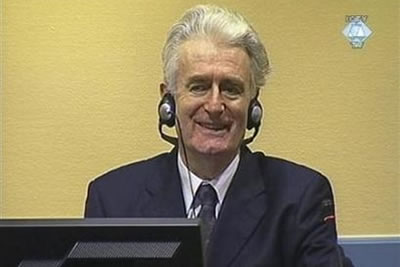 Radovan Karadzic in the courtroom
Former Bosnian Serb leader Radovan Karadzic, facing charges of genocide and other crimes committed in BH from 1992 to 1995, made his initial appearance in a Tribunal courtroom today. He intends to defend himself, he indicated. 'I have an invisible adviser, but I have decided to represent myself', Karadzic said. His plea was postponed until the next hearing scheduled for August 29, 2008.
Karadzic confirmed his identity and stated the Belgrade address where he lived as Dr Dabic as his last 'unofficial place of residence' prior to his arrest. When asked about his citizenship, Karadzic said that he considered himself a citizen of BH, Montenegro and Serbia. He added that upon his arrival in Holland he greeted the BH ambassador – this was most probably at the Rotterdam airport – and talked with a representative of the Serbian embassy but there 'was nobody there' from Montenegro.
Dutch judge Alphons Orie informed Karadzic of his rights and Rules of Procedure and Evidence and then read out the summary of the indictment charging Karadzic with the most serious crimes in the Tribunal's jurisdiction: genocide and complicity in genocide, crimes against humanity, violations of laws and customs of war and grave breaches of Geneva Conventions. When the judge asked him if he understood the indictment, Karadzic said that he was 'still studying it'.
Tribunal's Chief Prosecutor Serge Brammertz exceptionally attended the initial appearance today, and used the opportunity to tell the judge the indictment against Karadzic would be amended soon. Brammertz was not able to give more details about the changes but made it clear that no new crimes would be added. Prosecutor Alan Tieger also attended Radovan Karadzic's initial appearance. Tieger will likely be one in the prosecution team at the trial of the former Bosnian Serb political leader.
When asked if he wanted to raise any issues, Karadzic requested permission to say something about the alleged irregularities concerning his arrest in Belgrade. Judge Orie did not allow Karadzic to read four pages of text he had prepared. Karadzic then briefly recounted how he had been arrested by unidentified civilians three days earlier than Belgrade authorities claim.
Karadzic contends that the agreement he made with 'the US government' through Richard Holbrooke was the main reason why he didn't want to appear before the Tribunal earlier. Karadzic claims Holbrooke promised him the charges against him would be dropped if he agreed to withdraw from public, political and 'even literary life' in BH. Between 1996 and 1998, Karadzic claims, he has 'seriously considered' surrendering to The Hague but decided not to, for fear of being 'liquidated' because of the agreement with Holbrooke. Judge Orie advised Karadzic to address this and other issues in a written motion he could submit to the Trial Chamber.
It was interesting to note that unlike some of his predecessors, Karadzic showed respect for the Tribunal. When Judge Orie entered and left the courtroom, Karadzic rose, as is the custom. Karadzic also said that he would participate in the trial 'regardless of my opinion about this institution'. 'I will defend myself against it as I would against some natural disaster', Karadzic said.