Home
SURVIVOR OF THE EXECUTION TESTIFIES AT TRIAL
More testimony about Mujahedin crimes in Central Bosnia at the trial of former BH Army commanders Enver Hadzihasanovic and Amir Kubura.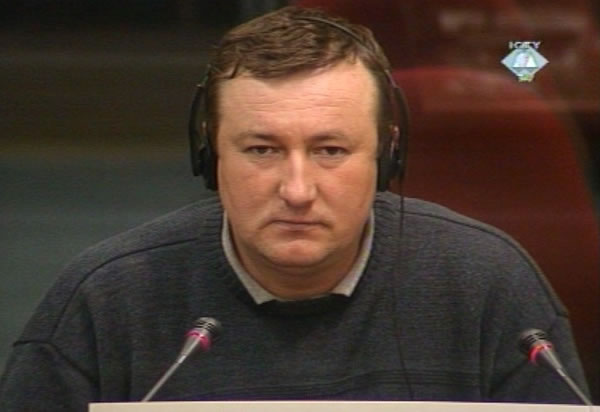 Berislav Marjanovic, witness at the Hadzihasanovic and Kubura trial
A group of some 30 Bosnian Croats from the village of Maljine in Central Bosnia surrendered on 8 June 1993 to the BH Army. The very same day, they were summarily executed in the nearby village of Bikose. Five captives survived the execution by pretending they were dead.
Among the survivors was Berislav Marjanovic. He testified about the event at the trial of General Enver Hadzihasanovic, then commander of the BH Army 3rd Corps, and Amir Kubura, former commander of the 7th Muslim Mountain Brigade. The prosecution has charged them with the Bikose crime.
The witness explained that after BH Army members captured the village of Maljine near Travnik, they took the inhabitants to the nearby village of Mehurici. En route they were stopped by a group of Mujahedin. "I was carrying my four-and-a-half month old son in my arms. The Mujahedin approached us and started taking out people. One of them snatched the child from my arms and gave him to my wife," said the witness. He was then taken with the other men who had been singled out along a different road towards Bikose by three masked soldiers. BH Army soldiers did nothing to prevent the men from being singled out and taken away.
On the road to Mehurici, several wounded men from Maljine and a girl joined the column. The girl was Ana Pranjes, who refused a Mujahedin demand to take off the Red Cross armband she was wearing.
When the column reached the village of Bikose, one of the captives started shouting due to an epileptic fit. "They started firing on us, bursts of fire. I fell on the road and felt my leg go numb," Marjanovic testified. He was hit in his lower leg. He watched from the ground as a boy tried to jump over a fence. When the boy was hit by a burst of gunfire, he remained there, hanging from the fence. They then went on to kill anyone who still moved with single shots to the head. "I thought they would kill me too, but they passed me by." When he saw that the attackers had left, Marjanovic, along with four other survivors, fled.
The indictment alleges that the village of Maljine was attacked by the 7th Muslim Brigade and the 306th Mountain Brigade of the BH Army. The BH Army soldiers who escorted the prisoners and the Mujahedin who shot them to death were, the prosecution claims, "under the command and effective control" of the accused Hadzihasanovic and Kubura.
Photos