Home
KRAJINA IN FLAMES
British liaison officer Roland Dangerfield claims Knin and other places in Krajina were systematically looted by the Croatian Army and the special police. Eighty to ninety percent of villages he visited in the weeks after Operation Storm were partially or completely burned down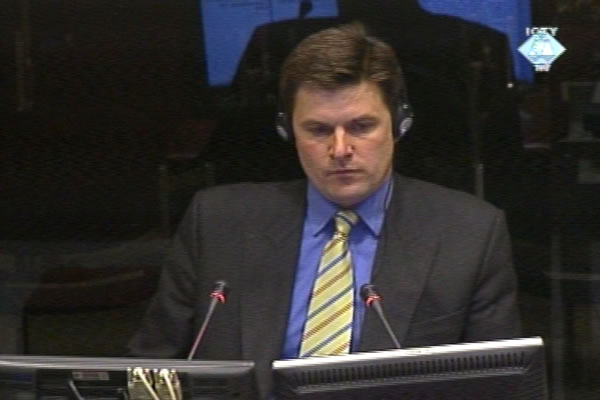 Ronald Dangerfield, witness at the Gotovina, Cermak and Markac trial
British liaison officer Roland Dangerfield testified today at the trial of generals Ante Gotovina, Ivan Cermak and Mladen Markac. His version of events in Krajina during and after Operation Storm is fairly consistent with what other personnel from the UN mission in Krajina described as they testified for the prosecution at the trial. In the statements he gave to the OTP investigators in 1995 and in 2008 and in his evidence today Dangerfield stated that Knin was heavily shelled on 4 and 5 August 1995; there was no military necessity for the shelling. As soon as the Croatian Army and the police entered the area, he noted, systematic looting and burning of Serb houses began throughout Krajina.
Dangerfield was in Krajina from mid-July to early September 1995; it was his task to report on the situation in the field to the command of the British sector of UNPROFOR in the Bosnian town of Gornji Vakuf. In late July 1995, he says, the Krajina Serb army carried out a general mobilization and only women, children and the elderly remained in Knin. To his knowledge, there was no military equipment in the town. However, in the early morning of 4 August 1995, the Croatian Army and the police launched an intense artillery attack on Knin that lasted two days; it resulted in a number of civilian building being hit. The witness contends that he didn't see any outgoing fire from Knin.
A day or two after the Croatian forces entered the town, general looting and burning of Serb houses started, Dangerfield recounted. As early as on 7 August 1995, Dangerfield crisscrossed Knin in his Land Rover and saw Croatian Army troops carrying household appliances and other valuables out of abandoned houses. They were loading it onto trucks with HV insignia. The soldiers were completely out of control, he said, and he didn't see any officers among them to command them. Not even the sight of international observers would make them stop the looting and torching of houses because what they were doing 'seemed normal' to them. Only the houses with the words 'Croatian house' written on them were spared.
In the weeks that followed in August, the witness visited most of Sector South. According to him, the situation in other Krajina towns and villages was similar to that in Knin: soldiers were looting houses and burning them down while police officers did nothing to stop them. Dangerfield contends that 80 to 90 percent of Krajina villages were partially or totally burned down. 'Larger part of Krajina was in flames and as time went by we got used to it', Dangerfield added.
In the first part of his cross-examination, Gotovina's defense counsel Kehoe mostly focused on topics Dangerfield had little or no knowledge about, prompting the presiding judge to warn him. As the judge put it, the aim of Kehoe's examination was not to 'educate the witness so he could go home wiser' but to allow the Trial Chamber to hear his evidence about what he knew from the field. Kehoe will continue his cross-examination tomorrow.