Home
'STUDENT' UNDER THE UN UMBRELLA
The 'spy affair' with the former UN press officer Alun Roberts ended on the last day of his evidence when it was revealed that he was not an informer of the RSK intelligence service: it was in fact Predrag Sare, an interpreter in the UN mission in Krajina, who worked under the codename Student. Roberts himself was accused of being a RSK spy by Gotovina in September 1995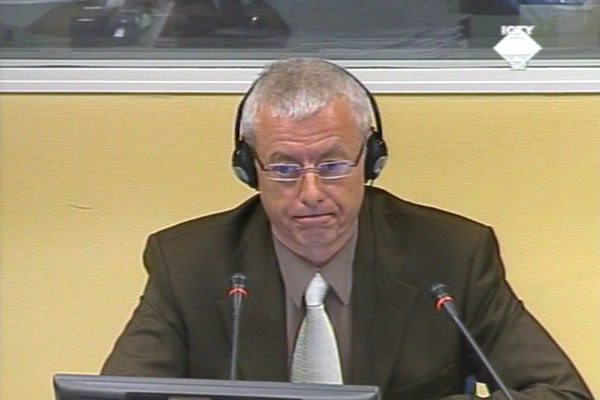 Alun Roberts, witness at the Gotovina, Cermak and Markac trial
On the last day Alun Roberts's cross-examination, Ante Gotovina's defense continued to ask the former UN press officer in Sector South questions about his alleged connections with the RSK intelligence service. In his examination-in chief the witness said that Gotovina had called him 'a spy and agent provocateur' and threatened to kill him at a meeting with the UN mission representatives in September 1995.
According to what Gotovina's defense counsel Luka Misetic showed today, Roberts's sin was that there was a Serb intelligence service agent working close to him, not that he himself was a spy. Misetic showed several intelligence documents seized by the Croatian Army after Operation Storm in the premises of the RSK civilian and military authorities. The documents indicate that Predrag Sare, an interpreter with the UN mission, was an agent of the security service, working under the codename Student. Sare worked as an interpreter during the meetings of highest-ranking UN officers with General Gotovina and other Croatian Army representatives. As the documents showed, Sare then forwarded the information to the Krajina Serb security service.
Roberts said that at one point Sare had told him and other UN mission representatives about his activities as a spy. He explained that he was forced to do it by the Serb security officers. Misetic then asked Roberts if not firing such an interpreter was a violation of the UN's neutrality. Roberts reminded him that Sare had not been his personal interpreter and that he had had no authority to replace him. Other high-ranking UN officers knew about Sare's contacts with the security services. Roberts saw nothing controversial in the report he drafted in August 1995 in which he described Sare as 'a recognized interpreter with years of experience' in the UN mission.
The defense counsel then went on to present more details from Predrag Sare's biography, such as the fact that he was Ratko Mladic's interpreter prior to his arrival in Krajina. His brother was Nenad Sare, former JSO units member, involved in political assassinations in Serbia. Roberts replied that he knew nothing about the interpreter's brother. He believed that Sare's application for the post of the interpreter with the UN mission in Krajina mentioned the fact that he had worked for the VRS Main Staff.
As today's hearing drew to a close, Mladen Markac's defense used an opportunity to ask an additional question. In an effort to show the purported partiality of the witness, he asked Roberts if it was true that nowadays he regularly spent time in Banja Luka, 'a town not famed for its ethnic tolerance and diversity'. Roberts replied that he had friends all over ex-Yugoslavia. Regardless of where he lived and worked, he always 'has professional work ethic in him', he said.