Home
EIGHT BULLETS FOR FOUR OLD PEOPLE
In his evidence at the trial of generals Gotovina, Cermak and Markac, Croatian Serb Milan Ilic recounts how he escaped from the hands of Croatian soldiers just before four old people were killed. One of them was Ilic's brother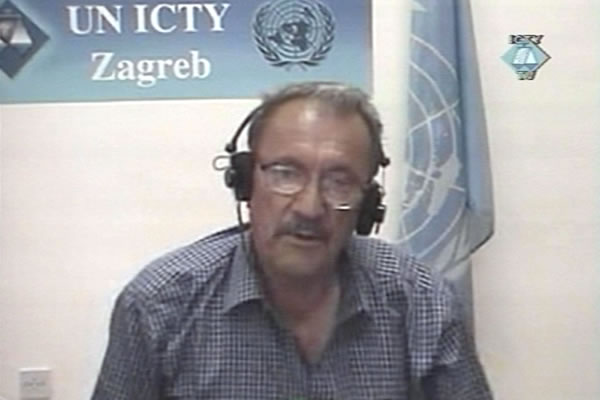 Milan Ilic, witness in the Gotovina trial
In the two statements he gave to the OTP investigators in 1999 and 2005, tendered into evidence at the trial of Croatian generals Gotovina, Cermak and Markac today, Croatian Serb Milan Ilic from the village of Donji Lapac in Lika, recounted how he had fled from the Croatian soldiers after his arrest in the village of Oraovac. His brother, aged 77, and three other elderly civilians were not that lucky. Their bodies were found in the Gracac cemetery after the war. The prosecutor read the summary of the witness' statements, and did not ask any questions about the incident in the brief examination-in chief.
On 7 August 1995, Donji Lapac was under the artillery attack. Ilic decided to flee the village and go to his family house in the nearby village of Oraovac. There he met his brother Marko. The Croatian Army entered the village soon after, and the two of them were arrested. Three other elderly persons, Stevo Ajdukovic, and Rade and Ruza Bibic, were also in the hands of the soldiers.
After they were searched, the witness took an opportunity when their guard was not looking and fled. He was the youngest among the captives. Ilic hid in the bushes and soon after, he heard eight shots: the shots were fired in twos. The names of the four old people killed in this incident are listed in the appendix of the indictment against the Croatian generals.
The witness was arrested again on 10 August 1995 when he attempted to reach the BH border. He was taken to a collection center in Zadar and returned to Donji Lapac in September. He found this village burned to a cinder, as he recounted; his house was also destroyed.
In his cross-examination, Ilic was not able to describe with any precision the uniforms and insignia worn by the soldiers in the village of Oraovac. As he said, some wore camouflage uniforms while others were in grey uniforms with 'some branches on their shoulders'. Ilic was cross-examined only by the defense counsel of the former police commander Mladen Markac while the defense teams of Ivan Cermak, former commander of the Knin Garrison, and military general Ante Gotovina refrained from asking any questions.
Ilic gave evidence via video link from Zagreb. He was not able to come to The Hague because he has difficulty walking. The trial for crimes committed in the course of Operation Storm and its aftermath continues on Monday.