Home
GARBAGE DUMP USED AS MASS GRAVE
Prosecution witness Redzep Karisik survived the massacre of prisoners held in the stadium in Vrapcici near Mostar in June. The indictment against Vojislav Seselj alleges that the Serb forces killed eighty Bosniaks and Croats there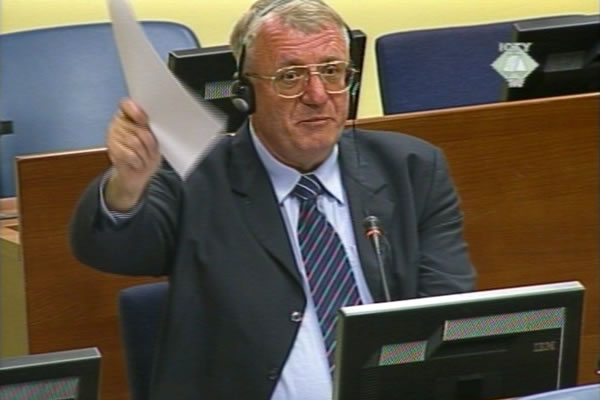 Vojislav Seselj in the courtroom
According to the indictment against Vojislav Seselj, many non-Serbs were detained, beaten, tortured and killed from April 1992 to June 1992 in the Mostar area after the Serb forces, including the volunteers called 'Seselj's men', took control of the area. Eighty civilians taken from the detention facility in the Vrapcici stadium were killed in the worst mass execution in that period. Redzep Karisik, a construction worker from the Mostar suburb of Zalik, survived this massacre.
In early June 1992, the witness attempted to flee Mostar where the situation 'had become unbearable'. He was captured and taken to the football stadium in Vrapcici, a neighborhood in Mostar. He estimated there were about ninety women, children and men from Mostar and nearby villages held in the locker room some 30 square meters in size. They were held in inhumane conditions, without food and water.
One night a group of soldiers 'with beards, in uniforms and with helmets' forced Karisik and fifteen other captives into a van. After a ten-minute drive, they were taken out from the van and then, as the witness recounted, 'gun bursts and killing' started. He was the sole survivor; everyone else died. He stayed alive because he was too terrified to walk, and he didn't go out of the van together with the others. Karisik was then taken to the city cemetery in Sutin where he was beaten and finally left there, tied to a radiator. He managed to tear the handcuff chain and escape. The bodies of the men from the van were found among eighty bodies exhumed from a mass grave in a garbage dump in Uborak, a place nearby. The witness was among those who helped identify the victims.
Seselj accepted Karisik's evidence as 'sincere and uncontentious'. In his cross-examination he tried to prove that the perpetrators of this crime were not Serbian Radical Party volunteers. He blamed it on the local Serbs and volunteers drafted by the Serbian Renewal Movement. Seselj showed the witness a list with some thirty persons suspected of perpetrating the massacre in Vrapcici who were under an investigation by the Cantonal Prosecutor's Office in Mostar. In order to prove that none of them was from Serbia, Seselj read the addresses of the suspects and the witness confirmed that he knew most of them from Mostar and its environs. The prosecution argues that local Serbs joined 'Seselj's men' in the Mostar area because they were 'attracted by their ideology and behavior'.
When the trial continues tomorrow, the prosecution will call the first evidence on the crimes in the Nevesinje area. The first witness is expected to testify for the most part or entirely in closed session.