Home
ZUPLJANIN POSTPONES HIS PLEA
At his initial appearance before the Tribunal, Stojan Zupljanin exercises his right to postpone his plea for a month. False identity was his 'only protection', Zupljanin explains, when the Serbian political and police leaders 'decided to eliminate' the remaining four fugitives from international justice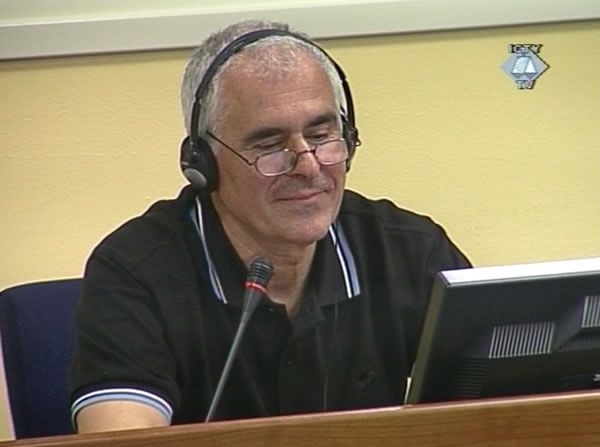 Stojan Zupljanin in the courtroom
At his initial appearance before a Tribunal judge, Stojan Zupljanin decided to postpone by thirty days his plea on the counts in the indictment charging him with crimes against humanity and violations of laws and customs of war committed in northwestern BH in 1992. In 1992, Zupljanin was a prominent member of the so-called Autonomous Region Krajina Crisis Staff and the chief of the Banja Luka Security Services Center. As alleged in the indictment, the police forces responsible for the operation of prisoner camps established in 1992 in Bosanska Krajina acted under Zupljanin's control.
Before he stated his name, Zupljanin held a rather long speech in an effort to explain why he was hiding under a false name. He was forced to do it, Zupljanin stated, when president Tadic, prime minister Kostunica, intelligence chief Bulatovic and war crimes prosecutor Vukicevic 'decided that to eliminate the four accused who remained at large – Zupljanin, Karadzic, Mladic and Hadzic – was in the best interest of both Serbia and Republika Srpska'. After that, he spent more than four years 'hiding and in fear'. In his opinion, he survived the arrest because those who captured him 'were not sure whom they had caught' and the false name he was using, Branislav Vukadin, was his 'sole protection'. Now that he is safe in The Hague, there is no need for him to hide the fact that he is Stojan Zupljanin. However, he fears that the three other accused have been 'swallowed by darkness'. Zupljanin added that he will prove the indictment was not true. He said that he was sure the Serbs, Croats and Muslims in Banja Luka would erect a 'great and shining monument' for him.
After postponing his plea, Zupljanin promised he would get hold of the indictment right after his initial appearance and would read it several times. He had refused to do so in Belgrade and after his arrival in the UN Detention Unit. Zupljanin will have another opportunity to enter his plea on 20 July 2008, before the Tribunal's summer recess.