Home
WITNESS: 'BIG FOOLS' WERE KILLING, NOT SOLDIERS
Testifying for the prosecution, Krajina Serb Jovan Vujinovic recounted why he refused to leave his village two times despite the fact that his house was burned down, his mother killed and all other villages decided to leave for Serbia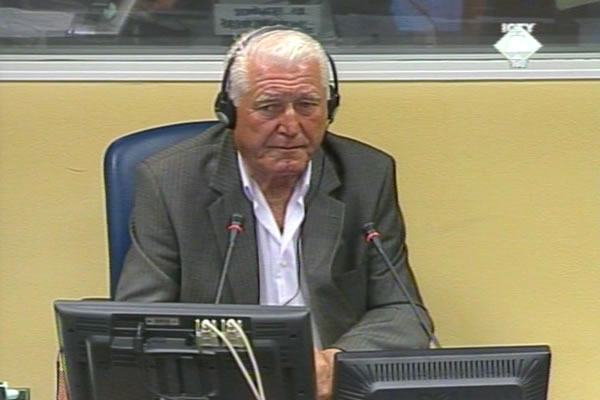 Jovan Vujinovic, witness at the Gotovina, Cermak and Markac trial
Jovan Vujinovic, railway worker from the village of Oton Polje in the Krajina Ervenik municipality, decided to remain in his home when Operation Storm was launched on 4 and 5 August 1995. Most of some 200 villagers decided to leave for Serbia, because they were afraid of the shelling and because they were advised to do so by local RSK officials. Sixteen villagers of Oton Polje, mostly elderly men and women, decided to stay together with Vujinovic.
In his evidence at the trial of generals Ante Gotovina, Ivan Cermak and Mladen Markac, charged with crimes committed in the course of Operation Storm and in its aftermath, Vujinovic stated that on 5 August, Croatian soldiers had already entered village. The looting started immediately and lasted several weeks. During that time, several people were killed in the village but, as the witness put it, 'idiots' were to blame for them, not the Croatian Army, and there were idiots on all sides.
On 18 August 1995, he left his house for a couple of hours. When he returned home to his family property, he found his old mother dead. She had been shot in the head three times. A few days later he found the body of his neighbor, Stevo Vujinovic. He heard that some other local Serbs were killed in the hamlets of Otric Polje but was not able to say when it happened and who did it as he was not an eye witness to the incidents that led to their deaths. His house and ten other houses in the village were burned down in this period. After all those events, most of the villagers of Otric Polje and neighboring villages left the area under the escort of the UN troops from the Ukraine. They went to Serbia.
In his cross-examination the witness repeated that he didn't believe that Croatian soldiers killed his mother. No soldier or police officer, he added, ever pressured him into leaving the village so when the second group of villagers was leaving on 21 August, he decided to stay. Moreover, soldiers and police officers, he contended, would come to his house for a 'drink and chit-chat'. He was not afraid because he knew many of them from before. They all knew that his mother had been killed and he felt there was no need to officially report her death, he noted. Several years after Operation Storm, he heard that he could get compensation for her death. The investigation was not conducted until April 2007 when some Croatian police officers arrived at the Vujinovic property. In a brief conversation, he was told not to move her body from the place where she was buried. The defense counsel didn't say today whether the investigation had been concluded and if yes, what the results were.
After Vujinovic completed his evidence, Peter Marti, former UN observer in Sector South, took the stand. He is expected to complete his evidence tomorrow.