Home
PROSECUTOR: CROATIA HAS NOT DELIVERED OPERATION STORM DOCUMENTS
The OTP wants the judges to issue a subpoena to Croatia ordering it to deliver hundreds of military and police documents related to Operation Storm. The crimes generals Gotovina, Cermak and Markac are charged with were committed during that operation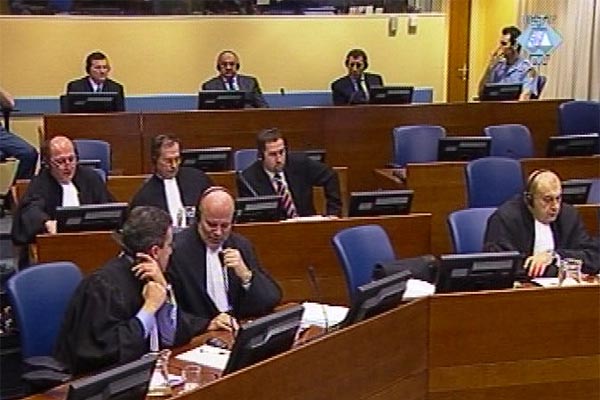 Ante Gotovina, Ivan Cermak and Mladen Markac in the courtroom
The Office of the Prosecutor has asked the Trial Chamber hearing the case of generals Ante Gotovina, Ivan Cermak and Mladen Markac to issue a subpoena to the Croatian authorities, compelling them to deliver hundreds of military and police documents from 1995 pertaining to Operation Storm. Croatia has so far failed to deliver 370 military and about 200 police documents, although the prosecution has been requesting them since November 2006.
There is a number of Croatian Army orders, maps and reports issued from 2 to 6 August 1995 among the requested documents. They contain a detailed list of artillery targets during the attack against Knin and other towns in Krajina. Without these documents, the prosecution contends, the Trial Chamber is 'manifestly hindered' in its efforts to establish the truth regarding the first three counts in the indictment alleging persecution, deportation and forcible transfer. The prosecutor argues that the shelling of Krajina towns and villages was not motivated by military necessity; the only purpose was to scare the Serb population and compel it to flee. About 200 police documents sought are mostly orders issued by General Markac, who commanded the MUP special units during Operation Storm.
The motion signed by chief prosecutor Serge Brammertz notes that the conduct of the Croatian authorities so far leads to the conclusion that the documents in question have been 'removed or secreted somewhere'. The OTP reminds the court that in 1996, the Croatian intelligence services launched a series of activities and measures codenamed Operational Action The Hague, whose aim was to remove from the Tribunal's reach all documents 'incriminating the accused Croats or having a negative impact on national interests'.
The prosecution has now called on the Trial Chamber to order the Croatian authorities to deliver all the requested documents within fifteen days or to submit credible evidence of their inability to do so. It has also called for measures to be taken to determine if the requested documents have been secreted somewhere, and for regular reporting on the steps taken in the enquiry into the matter.
Generals Gotovina, Cermak and Markac are charged with participation in the joint criminal enterprise aimed, as the indictment alleges, at achieving forcible and permanent removal of the Serb population from the Krajina region in Croatia.