Home
PREVENTION OF CRIMES 'ON PAPER'
Refuting the claims of Alain Forand, former commander of the UN Sector South, that the Croatian military and civilian authorities failed to do anything to prevent the looting and arson of Serb houses during Operation Storm and in its aftermath, General Ivan Cermak's defense counsel showed a series of police and military documents where demands are made to put a stop to the crimes and punish the perpetrators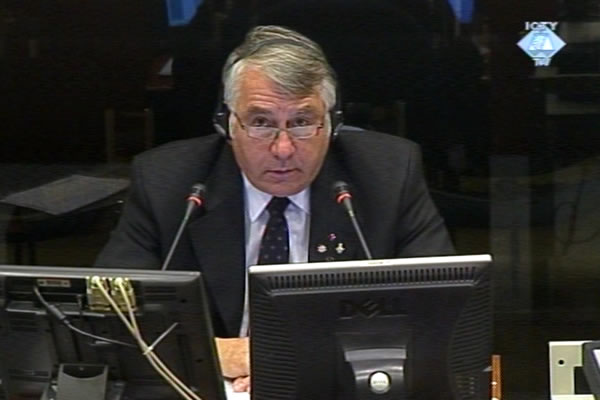 Alain Forand, witness at the Gotovina, Cermak and Markac trial
As the cross-examination of Canadian general Alain Forand continued, General Ivan Cermak's defense counsel contested Forand's claim that the Croatian authorities did nothing to prevent and stop the looting and arson of Serb houses in Krajina during Operation Storm and its aftermath in August 1995. Showing a number of documents issued by the Croatian civilian and military authorities, defense counsel Kay tried to prove that the authorities 'were concerned' about the crimes and 'undisciplined' behavior in the field. They issued orders to put a stop to it, at least on paper.
Several MUP orders issued from 10 August to 18 August 1995 are among the documents that were tendered into evidence. These orders identify Croatian soldiers as perpetrators of various crimes, primarily looting, arson and slaughtering of livestock. The military police is requested to prevent this from happening in the future. The documents showed today indicate that similar orders were also issued by General Cervenko, chief of the Croatian Army Main Staff. General Cervenko wanted to prevent the crimes and put a stop to the crimes, but he also called for the perpetrators to be punished. General Forand said he had been unaware of the internal correspondence of the Croatian military and civilian authorities. As he said in his examination-in chief, those orders were not implemented.
As the cross-examination of General Forand continued, Ante Gotovina's defense counsel took his turn to question him. He mainly focused on refuting Forand's claim that civilians left Krajina spontaneously, without an evacuation plan. He showed a document dated 4 August 1995, the day when Operation Storm was launched. In it, the RSK authorities ask the Sector South command to provide 450 trucks for the transportation of 32,000 refugees along the precisely designated route from Knin via Padjani and Srb to Bosanski Petrovac and finally to Banja Luka. The witness replied that on 4 August 1995 around 6pm he was in a meeting with the RSK representatives. He got the impression then that there was no plan and no designated route.
Noting the purported partiality of the UN forces in Sector South, defense counsel Kehoe confronted the witness with a statement given by Colonel Kosta Novakovic and quotes from a book written by another RSK army serviceman; they say that they received information from the UN personnel that the Croatian forces had launched an attack. Forand replied that he would have prevent those leaks had he known of them, adding that there was not much of a friendship between the UN forces and the RSK troops. He himself, the witness noted, in his contacts with the representatives of the SVK asked them to stop shooting at the UN soldiers if they wanted to get medical and other humanitarian help from the UN.
The cross-examination of General Forand will continue tomorrow. It was indicated at the end of the hearing today that it might stretch into Monday.