Home
GARBAGE DUMPS REPLACED MOSQUES
Andras Riedlmayer, prosecution expert for cultural heritage of the Balkans, continued his evidence describing what he saw in the summer of 2002 in BH: the destroyed mosques were in most cases replaced by garbage dumps. In some cases, there were new residential buildings and Orthodox churches where mosques used to stand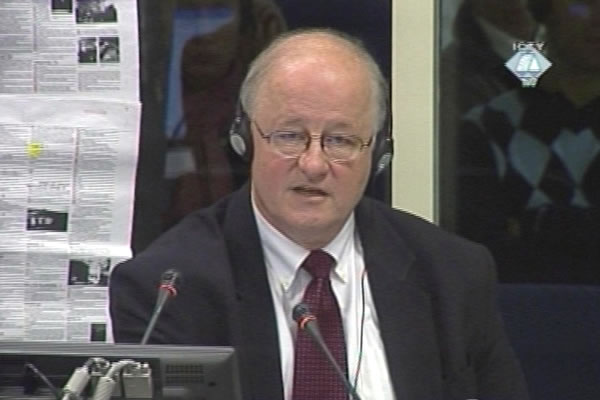 Andras Riedlmayer, witness at the Vojislav Seselj trial
As he continued his evidence about the destruction of the Muslim and Roman Catholic cultural heritage during the war in BH, prosecution expert witness Andras Riedlmayer described today what he found during his field trip in the summer of 2002, when he visited the sites where destroyed mosques used to be. In all of the eleven BH municipalities listed in the indictment against the Serbian Radical Party leader Vojislav Seselj, mosques were razed to the ground in many places. Those sites were then put to different use.
[IMAGE]3444[/IMAGE]In a large number of cases, the witness said, he found dumpsters or even garbage dumps and old cars. He noted that the garbage was mainly deposited at places where the entrances to the mosques used to be. Examples of this are the Market mosque in Zvornik or Hadzi-Pasa's mosque in Brcko. Apart from garbage dumps, new buildings were constructed where mosques used to be, Riedlmayer went on. In Zamlaz, a part of Zvornik, a residential building was built where the oldest mosque in that municipality used to be. In the village of Divic, the mosque was replaced by an Orthodox church.
In his cross-examination today, the accused Vojislav Seselj didn't focus on Riedlmayer's report. In his opinion, he 'expertly destroyed it' with the objections he raised during the witness's examination-in chief. Therefore, he chose to 'destroy' the witness's credibility today, focusing first on Riedelmeyer's alleged partiality. Seselj showed an e-mail the witness sent to his friend on 13 March 2008. The friend went on to post it on his blog. In his e-mail, Riedlmayer calls the Serbian Radical Party a 'neo-fascist' party. Riedlmayer explained that it was a personal and informal message in which he describes Seselj's party 'neo-fascist' because of some extremist nationalist views many people label fascist.
[IMAGE]3445[/IMAGE]The accused doesn't contest the fact that the mosques and Catholic churches were destroyed during the war in BH. He reminded the witness that the patriarch of the Serbian Orthodox Church had urged against the destruction of religious buildings of other faiths at that time. Radovan Karadzic, president of Republika Srpska, ordered the police to protect all mosques and Catholic churches in the republic. Riedlmayer was aware of Karadzic's order to the police in 1993, but despite the order, the destruction of non-Serb religious buildings in Republika Srpska continued unabated. In Banja Luka, for example, none of the sixteen city mosques survived.
Seselj will complete his cross-examination of the prosecution expert witness tomorrow.