Home
SKILLFUL RESEARCH FOR RELIABLE REPORTING
SENSE Center in Pula organized a workshop for journalists from the region instructing them about the methods of research and sharing its experience in gathering facts established in Tribunal's proceedings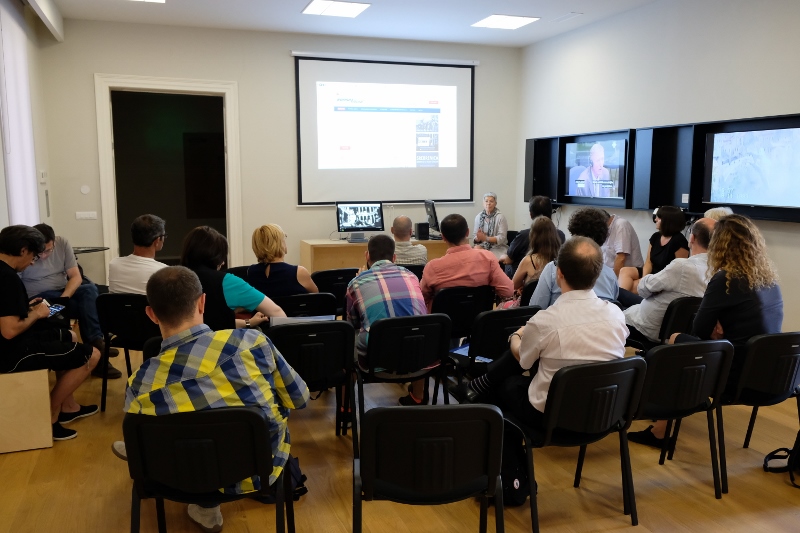 Media Workshop - SENSE Center in Pula
A workshop for journalists on the research of the databases and the archives of the SENSE news agency and the Hague tribunal was organized and hosted by the SENSE Documentation Center in Pula this past weekend. There are numerous reasons for distorted reporting or passing over the facts established during the trials, some of them might be political or propagandistic, but one of the most common reasons is a simple lack of research skills, explained the organizer.
''Only the surface of the huge database of the International Criminal Tribunal for the Former Yugoslavia has been 'scratched'. It contains an enormous number of established facts about the violence that happened in our countries in the 1990s. They can be of use in some future trials, in journalistic reporting or in dealing with the past. Therefore, we made it our goal to help journalists research those established facts by sharing our expertise in gathering them ", said Mirko Klarin, director of SENSE – Transitional Justice Center.
The closing of the Tribunal should not lead to returning to a culture of impunity and that is why the media and the civil society in the ex-Yugoslav states ought to put pressure on the judicial authorities to continue the trials for the crimes committed in the 1990s, he added.
At the workshop, journalists from Bosnia-Herzegovina, Serbia and Croatia could learn how to utilise the website of the SENSE News Agency containing more than 12.000 written reports, a rich television and documentary archives and online narratives. Mirko Klarin, Mina Vidaković and Mirelem Smajlović guided them through the website, pointing up that SENSE's journalistic output can serve as a very useful starting point for a more focused research of the Tribunal's huge archives.
Tanja Matić spoke about her experience in researching Tribunal's archives and shared the most efficient search techniques. Aleksandar Kontić from the Tribunal's Office of the Prosecutor clarified which parts of its archives and under which conditions are accessible for public. Miralem Smajlović guided the attending journalists through the Tribunal's audio-visual database.
A historian from Pula Igor Jovanović informed the journalists about a database of resources, including SENSE online narratives and data base, that has been created to help in teaching and learning about the wars in the former Yugoslavia. A regional team of historians and professionals conceived and created that digital repository, with the support of the European Association of History Educators EUROCLIO. It is available at Devedesete.net.
Photos