Home
ETHNIC TREASURE STAINED BY ETHNIC VIOLENCE – NEW EXHIBITION AT SENSE CENTER
American artists painted onto illustrations of ethnic constumes infecting them with visual references to violence. ''This project is my response to the materials I have been studying in the archives of SENSE", explained Rajkamal Kahlon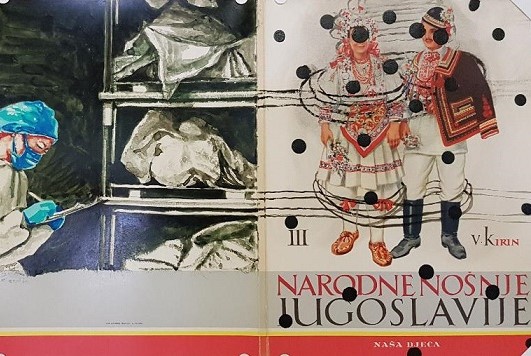 Dear Yugoslavia, I regret to inform you..., an exhibition by American artist Rajkamal Kahlon opened at SENSE Centre
Dear Yugoslavia, I regret to inform you..., an exhibition by American artist Rajkamal Kahlon opened at SENSE – Transitional Justice Centre in Pula. It shares the space and the theme with SENSE's exhibition on the destruction of cultural and religous heritage during the wars in the former Yugoslavia.
Kahlon used four volumes of Yugoslav ethnic costumes illustrations from the 1950s, made by Vladimir Kirin, painting directly onto them and infecting these romantic pictures with references to the violence that nations of the former Yugoslavia committed against each other. The references include scenes of mass grave exhumations, forensic anthropology, military weaponry, blood and human limbs.
"It is an attempt to point to new ways of processing traumatic history. This project is my response to the materials I have been studying in the archives of SENSE – Transitional Justice Center", Kahlon said. The body – injured and transformed – is a recurring motive in her work: subject to violence the body also becomes a space for transformation and resistance.
Rajkamal Kahlon's work demonstrating what people are capable of doing to one another out of conviction goes together well with the message that SENSE communicates with its exhibition Targeting monuments, remarked Mirko Klarin from SENSE. It is based on the interactive narrative elaborating how the systematic destruction of cultural and religious heritage in B-H, Croatia and Kosovo was processed before the Tribunal.
The exihibition in SENSE Pula centre is part of a series of exhibitions involving international and national authors opening simultaneously in Pula, Vodnjan, Raša, Labin and Rijeka. It is called On the Shoulders of Fallen Giants and organized by Labin Art Express, Istrian Archeological Museum and Contemporary Art Museum in Rijeka as part of the project Rijeka 2020, European Capital of Culture.
Photos