Home
MLADIC WANTS TO GO TO RUSSIAN HOSPITAL
In its motion, the defense sounds the alarm on the sudden deterioration of the health of the former VRS Main Staff commander and urges the court to allow the accused to travel to Russia urgently, citing humanitarian and medical reasons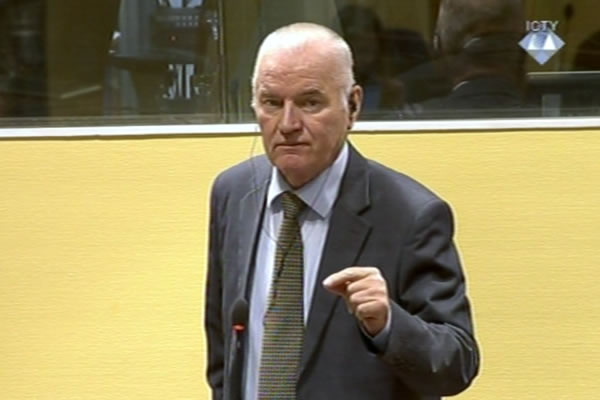 Ratko Mladic in the courtroom
The health of the accused Ratko Mladic took a sudden turn for the worse in early March this year. The new symptoms, according to the defense, indicate an extremely heightened risk of a stroke or a heart attack. The defense would therefore like the court to provisionally release Mladic, on humanitarian and medical grounds. He is in the UN Detention Unit awaiting his judgment, which is due to be delivered in November. The defense want Mladic to travel to a Russian hospital whose name has been redacted from the motion made public today. All the information about the general's medical problems have also been redacted.
As can be gleaned from the redacted motion, in mid-March Mladic was transferred to the Bronovo Hospital in The Hague. It is not clear if he is still there or has been brought back to the UN Detention Unit. Some four years ago, Mladic took the floor during his trial to thank publicly everyone, "from the cleaning lady to Bronovo's owner " for saving his life. As he put it, he had come to The Hague 'with one foot in the grave'.
It is not known if in the meantime Mladic has changed his mind about the quality of care he has been receiving in The Hague, but the motion states that three Russian specialists who saw the accused in 2015 expressed 'serious concerns about the quality of medical care and […] certain lapses in the medical records, as well as in the treatment".The medical personnel in the UN Detention Unit and the specialists from the Bronovo Hospital are accused on 'deviating from or violating professional standards'.
Unlike the inadequate treatment Mladic is receiving in the Dutch hospital, the Russian hospital where the defense wants Mladic to go will ensure 'an immediate thorough clinical and laboratory control and series of instrumental examinations…' to reduce the risk of an undesirable outcome.
Appended to the motion are the findings of three Russian specialists who saw Mladic in 2015 and the opinions of three Serb physicians who studied his medical file. There is also a letter from the Embassy of the Russian Federation in the Netherlands, confirming that Russian authorities are willing to let Mladic enter the country to undergo medical treatment and agreeing to all the conditions set for his provisional release by the Trial Chamber.
The defense warns the Tribunal ominously of the risk that Mladic might end up like Slobodan Milosevic who died in the detention unit awaiting the court's decision on a similar motion in which he too sought to be allowed to travel to Russia for medical treatment.