Home
MLADIC'S MOTION ALLEGING UNFAIR TRIAL REJECTED
The Tribunal's Appeals Chamber rejected today Ratko Mladic's interlocutory appeal against the Trial Chamber's decision issued in July 2016. As alleged by the defense, the trial decision violated the right of the accused to a fair trial and the presumption of innocence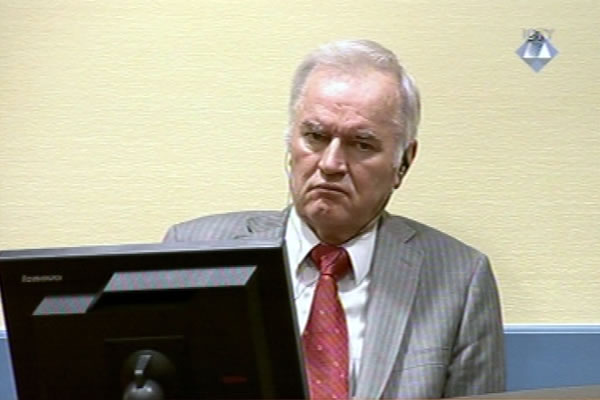 Ratko Mladic in the courtroom
The defense of the former chief commander of the VRS Main Staff argued that right of the accused to a fair trial and presumption of innocence were jeopardized when several legal advisors to the Trial Chamber sitting in the Radovan Karadzic case were in the meantime engaged to help the Trial Chamber deliberating on Mladic's judgment. In the defense's view, many paragraphs in Karadzic's judgment militate in favor of Mladic's conviction. As an example, the defense highlighted two paragraphs in the Karadzic judgment where the judges found that Mladic's involvement in the joint criminal enterprise had been proven beyond reasonable doubt.
In its decision issued today, the Appeals Chamber with the Judge Carmel Agius presiding first rejected the Mladic's allegations that the controversial decision the Trial Chamber from July 2017 was not 'sufficiently substantiated' because the judges did not specifically find that the presumption of the accused's innocence hadn't been violated. According to the Appeals Chamber, the conclusion in the contested Trial Chamber's decision – that Mladic's right to a fair trial was not violated – clearly implied that Mladic's presumption of innocence also remained intact.
The Appeals Chamber concluded that Mladic's defense had misinterpreted the Tribunal's Rules and jurisprudence and wrongly assumed that the Trial Chamber's advisors were subject to the same standards of non-bias as the judges. The legal advisors, the decision went on to note, were only helping the Trial Chamber in their legal enquiries, and in drafting opinions and decisions. Only the judges were tasked with deciding the guilt or innocence of the accused.
The Appeals Chamber also decided to reject Mladic's defense argument that Mladic's was 'already convicted' in the Radovan Karadzic judgment. The judgment, the decision specified, referred to Karadzic's criminal responsibility, and no one else's. Also, none of the judges involved in drafting the Karadzic judgment is in the Trial Chamber deliberating on Mladic's judgment.
The judgment in the case against the former commander of the VRS Main Staff, charged with double genocide (in the six BH municipalities in 1992 and in Srebrenica in 1995), and with crimes against humanity and violations of laws and customs of war, as indicated previously, will be rendered in November.