Home
KARADZIC DEMANDS STATUS CONFERENCE
The former Republika Srpska president has filed a motion demanding that a status conference be scheduled. He wants to talk about his health, conditions in the detention, disclosure of exculpatory material and the sentencing date. Karadzic has suggested that the status conference be held in first nine days of June 2015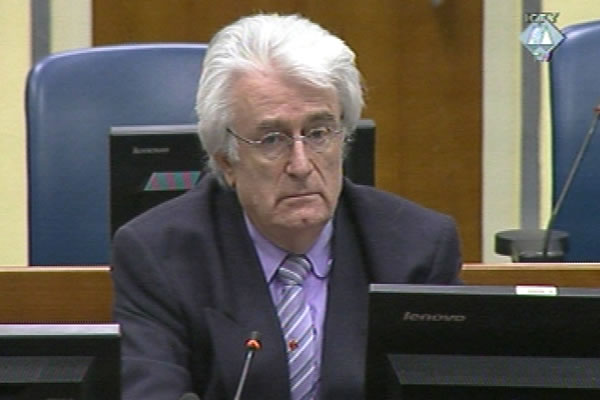 Radovan Karadzic in the courtroom
Former Republika Srpska president Radovan Karadzic has demanded that a status conference be scheduled in his case, at any date between 1 and 9 June 2015.
This is the second time Karadzic has asked for a status conference. Such hearings are regularly held in the pre-trial stage of the proceedings. In its decision to grant the first motion in January 2015, the Trial Chamber noted that a status conference was in the interests of justice, in light of its 'importance' for the well-being of the accused.
This time, Karadzic was motivated to call for a status conference by his health problems. The accused has elevated blood sugar levels. In Karadzic's view, that might mean he has diabetes and he wants to discuss the issue with the judges.
Karadzic also wants to raise some issue related to the conditions in the detention unit and his inability to use a voice recorder. At the last status conference, Karadzic explained that he wanted to compile an audio-dictionary of the Serbian language, following in the footsteps of his purported ancestor, Vuk Karadzic. The accused is also very concerned about the deteriorating health of the other detainees and the quality of medical care available in the detention unit. Karadzic wants to lodge a complaint about the prosecution violating its duty to disclose exculpatory evidence.
Finally, in Karadzic's view, a status conference in early June 2015 would provide a 'suitable' opportunity for Judge Kwon's Trial Chamber to inform the parties of a possible judgment date. According to the Tribunal's current timetable, the trial judgment for the former Republika Srpska president, who is charged with genocide and other crimes in Bosnia and Herzegovina, has been scheduled for October 2015.