Home
WHAT POST MORTEMS OF TOMASICA VICTIMS SHOWED
British pathologist John Clark concluded that most of the victims exhumed from the Tomasica mass grave had been shot; most of them died of gunshot wounds to the backs of their heads or torsos. All victims wore 'regular' civilian clothes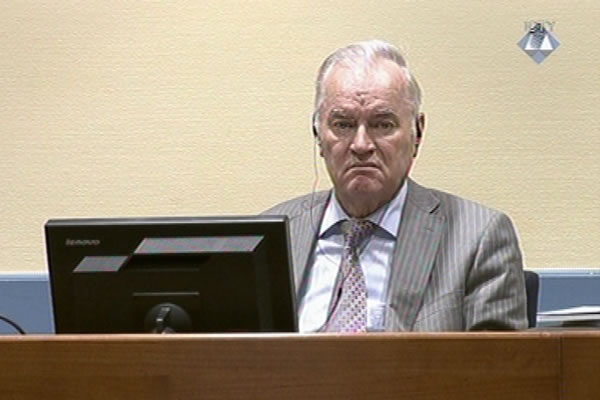 Ratko Mladic in the courtroom
British pathologist John Clark testified at the trial of the former VRS commander Ratko Mladic. Clark wrote a report on the post mortems carried out on the bodies exhumed from the Tomasica mass grave near Prijedor. During the four months he worked in the Sejkovaca Center for Post Mortems and Identification in Sanski Most, Clark examined 400 bags containing human remains and 34 bags of artifacts. The body bags contained 293 complete bodies and 197 body parts such as legs, skulls or upper arms.
Dr. Clark and other medical examiners who conducted the post mortem were astonished that the remains were so well-preserved. In a large number of cases, there was tissue with bullet fragments embedded in it. Some bodies were in such a good shape that the body contours could clearly be seen. In one case, a tattoo was preserved on the skin. That, Dr. Clark clarified, was rather unusual given that it's been more than 20 years since the time of death. In Dr. Clark's words, the blue traces on the surface of the bodies resulted from the presence of some sort of a mineral in the soil.
During the post mortems, Dr. Clark established that most of the victims had been shot. Many victims were shot one, two or three times. In two cases, bodies were hit by eight or nine bullets.
Most of the injuries were caused by high-velocity rounds and a few by pistol bullets. One thing that was different in Tomasica in comparison to the victims from Srebrenica and other mass graves in BH and Croatia was the high percentage of gunshot wounds to the head (present in 35 per cent of the victims). Most of these, 45 per cent, are in the back of the head. Likewise, most of the wounds located in the torsos of the victims, in 59 per cent of the cases, are in the back.
As Dr. Clark told the court, the clothes were also in good condition. There was no military equipment anywhere on the bodies. The victims wore 'regular' clothes such as trousers or shorts, button-down shirts or T-shirts. They all wore summer clothes. The fact that some bodies had several layers of clothes caught the attention of Mladic's defense counsel Branko Lukic. In the first part of the cross-examination, Lukic noted that wearing multi-layered clothes wasn't consistent with the experts' claim that the victims were killed in summer. Dr. Clark explained that there were only about 20 such cases. Summer nights may have been colder, Dr. Clark added.
As he was questioned by the defense counsel, Dr. Clark said that he couldn't absolutely rule out the possibility that some of the victims had died in combat. The cross-examination continues tomorrow.