Home
ANALYSIS OF ITEMS FOUND IN TOMASICA
At Ratko Mladic's trial, biologist Elmira Karahasanovic presented the results of the DNA analysis of items found near the 385 victims in the Tomasica mass grave near Prijedor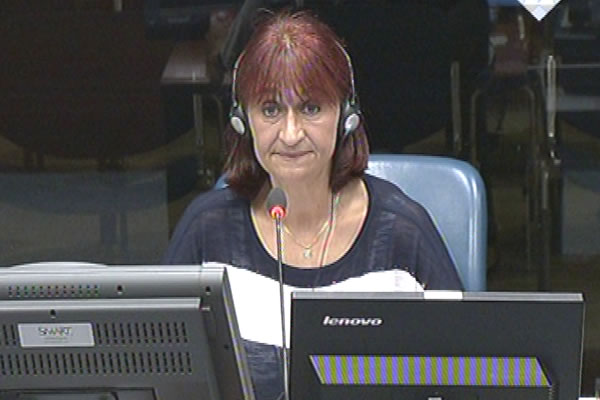 Elmira Karahasanovic, witness at Rako Mladic trial
In the second part of the hearing at Ratko Mladic's trial, the court heard the evidence of another prosecution expert witness Elmira Karahasanovic, chief of the department for biological analysis in the BH federal police. Karahasanovic and two of her colleagues wrote a report on the biological and chemical analysis and fingerprinting of the artifacts recovered near the victims in the Tomasica grave near Prijedor.
In addition to being the coordinator in the production of the three-part report, the witness was also involved in the analysis of the biological evidence and DNA of the samples taken from the items found in the grave. The prosecution will not call the authors of the two other parts of the report that pertain to the chemical analysis and fingerprinting of the remains for the purpose of identification. Judge Orie's Trial Chamber decided to admit the entire report into evidence but will refer only to the part authored by Elmira Karahasanovic in their deliberations.
Not much was discussed in the brief examination-in-chief. Karahasanovic told the court that gloves, gas masks and fire extinguishers were found next to the victims'bodies in the Tomasica mass grave. As the cross-examination progressed, it transpired that trace evidence belonging to three unknown males and one female was recovered from the gloves. Also, the report showed that the gas masks were used in the JNA. This prompted defense counsel Ivetic to note that in the former Yugoslavia similar gas masks were also manufactured for civilian use.
The defense also alleged that the procedure was violated when the items recovered from the Tomasica grave were analyzed. Dirt and soil were removed when the items were subjected to the chemical analysis, fingerprinting and ballistic tests and consequently all traces of DNA were lost. The witness explained that this was the standard procedure. The samples used in DNA analysis are always taken before chemical or any other tests, the witness explained. The samples from items found in Tomasica were still in custody and DNA analysis could be repeated if necessary, Karahasanovic explained.
The Tomasica mass grave containing the remains of 385 victims from Prijedor was discovered in September 2013. Last week, the prosecution opened its case on Tomasica. After Elmira Karahasanovic completed her evidence, the hearing continued with the testimony of British forensic pathologist John Clark.