Home
BALLISTIC FINDINGS CONTESTED
At the end of the cross-examination of ballistics expert Bruno Franjic, Ratko Mladic's defense noted that the shells and bullets recovered in the Tomasica mass grave were not necessarily linked to the VRS weapons. Such weapons could have easily belonged to the police as well as the civilians, the defense argued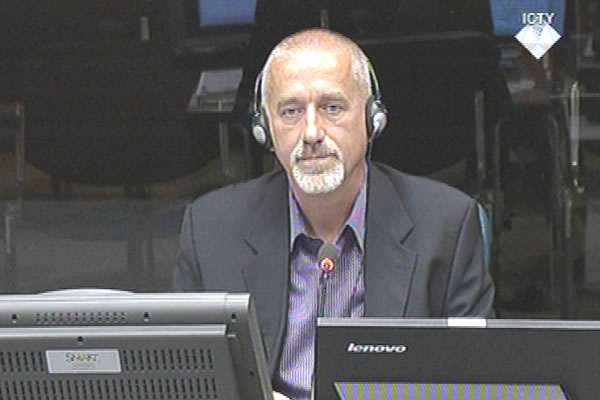 Bruno Franjic, witness at Rako Mladic trial
The cross-examination of Bruno Franjic, ballistic expert from Sarajevo, began last week at the trial of Ratko Mladic, former commander of the VRS Main Staff. Today Franjic's cross-examination was completed. Franjic analyzed shells and bullets recovered during the exhumations of the Tomasica mass grave near Prijedor and during the post mortems of the exhumed bodies in the Sejkovaca Center for Post Mortem and Identification in Sanski Most.
Mladic's defense counsel Dragan Ivetic today tried to contest the findings presented in Franjic's expert analysis of the shells and bullets recovered from Tomasica. Ivetic put it to the witness that he had not complied with the standards of ballistics expertise and the Code of Ethics of the Association of the Arms and Tool Marks Examiners (AFTE). Franjic dismissed the allegations, noting that Alija Kotarevic, another ballistics expert, also contributed to the expert analysis. Kotarevic confirmed all the findings listed in the report.
According to the expert reports – admitted into evidence today – the analysis of shells and bullets from Tomasica shows that the bullets were fired from seven types of firearms. Those were the Kalashnikov automatic rifle, the Crvena Zastava M-70 automatic rifle, Crvena Zastava M-72 machine gun, Crvena Zastava M59/66 semi-automatic rifle and three pistols of different calibers.
Defense counsel Ivetic noted that such weapons didn't necessarily belong to the VRS given that the Serb police also had them. Moreover, the defense counsel suggested, the weapons could have been used by civilians as they were the sort civilians could buy on the black market. Establishing whose weapons that was, Franjic replied, was beyond the scope of his analysis. 'I don't know what kind of weapons the VRS and the police had at their disposal', Franjic said.
After Bruno Franjic completed his evidence, the prosecution case continued with the evidence of Elvira Karahasanovic. She analyzed items found in the course of the exhumations conducted in the Tomasica mass grave.