Home
KARADZIC MUST PAY FOR DEFENSE
Radovan Karadzic's appeal against the Trial Chamber's decision has been rejected. The Trial Chamber has confirmed in its decision the Registry's finding that the former Republika Srpska president should pay 146,501 euros for his defense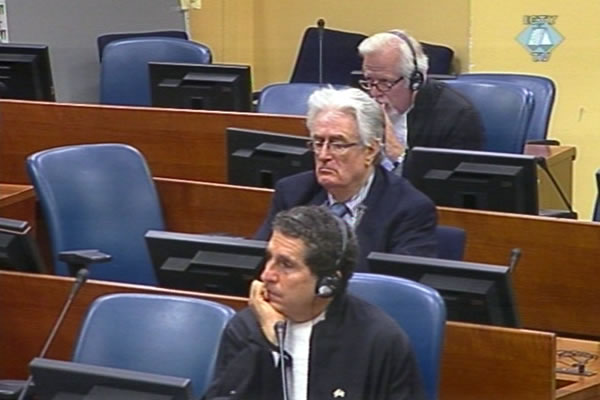 Radovan Karadzic in the courtroom
Former Republika Srpska president Radovan Karadzic must contribute 146, 501 euros toward the costs of his defense. The amount was set in a decision issued by the Registrar in October2012. Karadzic has been trying in vain to overturn the decision for the past two years.He first demanded that the administrative decision be subjected to judicial review. The Trial Chamber rejected the motion. In April 2014, he lodged an appeal against that decision. In July, the appeal was dismissed in a confidential decision of the Appeals Chamber which was made public today at the Tribunal.
In the motion Karadzic claimed that the judges had erred when they shifted the burden of proof on him. Funds available to him were either not sufficient or couldn't be used to finance defense, Karadzic clarified. Also, Karadzic argued that the value of his real estate was miscalculated. 'The current funds available' to pay for his defense were not established correctly, Karadzic stressed. In Karadzic's words, the matrimonial property 'is not currently at his disposal' because his wife 'is not willing' to accept the division of property nor to contribute to the defense costs.
According to Karadzic, the Trial Chamber failed to take into consideration his debt which amounts to about 630 million euros in private suits filed against him in France and the United States. The Trial Chamber also refused to collect his debt to the Tribunal from the interest accrued on his property. Finally, Karadzic claimed that he sustained damage because the Registrar's decision on the amount of debt was handed down four years too late. The Trial Chamber took a further 18 months to render its decision, Karadzic noted.
The Appeals Chamber rejected all of Karadzic's arguments noting that the Trial Chamber did not err when it confirmed the Registrar's decision that Karadzic should pay back 147,501 euros as his contribution to the defense costs. In the Registrar's decision from 2012 the amount was to be deducted from the installments paid to Karadzic's legal team from the legal aid fund.
The former Republika Srpska president currently awaits his judgment on the indictment for double genocide and other crimes in Bosnia and Herzegovina. In September 2014, Karadzic and the prosecution delivered their closing arguments.