Home
HADZIC PROVISIONALLY RELEASED
Judge Meron's Appeals Chamber has reversed the Trial Chamber's decision and has ordered that Goran Hadzic be provisionally released until the next MR scan, scheduled for early May 2015 in The Hague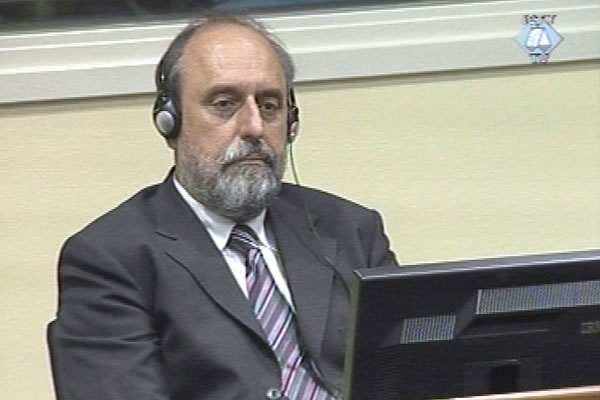 Goran Hadzic in the courtroom
The Appeals Chamber has decided to provisionally release the accused Goran Hadzic until the date specified in the confidential annex. In his motion, Hadzic asked to be provisionally released until the next MR scan, scheduled for early May 2015. The Trial Chamber denied the motion in mid-March 2015, noting in its decision that even though the trial has been temporarily suspended, it is still ongoing.
In its decision granting the defense's appeal, the Appeals Chamber stresses that the trial judges have failed to take into consideration 'humanitarian reasons' which militate in favor of Hadzic's provisional release motion. The appellate judges note that their colleagues failed to 'give proper weight' to the fact that Hadzic suffers from an incurable brain tumor and that his prognosis is not good. Instead, the Trial Chamber focused on the medical care Hadzic had been given and on the 'need for the continuation of his trial'.
'Humanitarian reasons' dictate that Hadzic should be provisionally released for a limited time to be with his family while the proceedings are suspended, according to Judge Meron's Appeals Chamber. The trial was adjourned on 20 October 2014 when Hadzic was diagnosed with the tumor and when his medical treatment started.
A reasonable trial chamber, the judges note in their decision, would not fail to take into account the assessment of the medical experts who had examined Hadzic and who had testified about it in public at a hearing in February 2015. The medical experts found that Hadzic's general health would improve if he were able to join his family. The Trial Chamber also erred when it did not take into account properly the side effects of the therapy; these include weight loss, headaches, memory loss, slowness and fatigue. The Appeals Chamber notes that Hadzic has not given his permission for the trial to continue in his absence.
Furthermore, it is 'unrealistic to expect' that the proceedings could continue while Hadzic is undergoing treatment or before the examination slated for May 2015. According to the appellate judges, when the Trial Chamber issued its decision, it was guided by the obligation to ensure the expeditiousness of the trial. At the same time, the trial judges failed to explain "how his interest is served by denying the request for a short period of provisional release during which time, in all likelihood, Hadzic will not be able to attend proceedings".
During his provisional release the former prime minister of the SAO Eastern Slavonia and former president of the Republic of Serbian Krajina will remain in Novi Sad under supervision of the local police. Hadzic was indicted for crimes against humanity and violations of laws and customs of war on several locations in Eastern Slavonia, including the Ovcara Farm, where more than 200 persons were executed on 20 November 1991, as alleged in the indictment.